OCALA, FL (March 4, 2013) – Jared Petersen will likely never forget the 2013 HITS Ocala Winter Circuit. He and Titus 2:11 won their third consecutive Sunday grand prix, and their fourth grand prix of the circuit in yesterday's $50,000 Ring Power Grand Prix, presented by Zoetis. The 20-year-old rider from Archer, Florida is sitting on a relatively new mount with Titus 2:11, owned by his father Derek Petersen, and this season marks their first at grand prix-level competition together.
The Petersen family, while elated at the recent string of successes, is admittedly shocked at how things have played out so early in this duo's career. "Don't pinch me!" said Petersen's father Derek after Sunday's event. "We are blown away by how well this horse keeps jumping."
Sunday's course was designed by Dave Ballard of Tottenham, Ontario and saw five clear rounds advance for a jump-off that proved to be one of the more difficult tests presented at HITS Ocala this season.
First to return was Sulu Rose-Reed of Mechanicsville, Virginia and Envy, owned by Reed and Lisa Stripllin. Eight jumping faults on the field and a time of 37.01 seconds ultimately secured her the third-place ribbon.
Next to show was Petersen and Titus 2:11, who made it look easy with a beautiful ride over Ballard's final test. A clear round set the Great American Time to Beat at 38.11 seconds.
"This horse has one of the biggest strides of any horse I have ever ridden and it makes him hard to beat in the jump-off," said Petersen of Titus 2:11, a nine-year-old Holsteiner gelding.
Third to show was David Beisel of Goshen, Ohio and Ammeretto, owned by Equine Holdings LLC. Beisel was second to Petersen in Thursday's $25,000 SmartPak Grand Prix, presented by Zoetis, and hoped to capitalize on his second chance at victory. Sixteen jumping faults in 44.67 seconds, however, put Beisel in fifth.
Tracy Fenney of Flower Mound, Texas and MTM Farm's MTM Centano had two rails for eight faults in a time of 37.81 seconds, good enough for fourth. Fenney also earned the tenth place ribbon with her second mount, MTM Farm's MTM Timon.
Last to show was Lisa Goldman, 23, of Hawthorn Woods, Illinois and her own Morocco. Goldman has made a name for herself with two grand prix victories already under her belt. She is known for being hard to beat in the jump-offs and was the perfect candidate to put Petersen's win in jeopardy. But, a fall in the warm-up ring left Goldman a little shaken.
"It took me a couple minutes to get back up, but I knew I had to get back on and go for it," said Goldman. She and Morocco were plenty fast, but a rail after the in-and-out combination came down to keep her from the win. She finished with eight faults and a time of 34.52 seconds for second place.
"I hurt my ankle in the fall, but I'll be fine. I was definitely going for it when I got out there and I knew I was really fast from the start. I even slowed down after the first jump," added Goldman. "I'm really happy for Jared, he's having a great season."
Goldman finished in the ribbons on three mounts yesterday, picking up the seventh aboard Mary Goldman's Centurion B and ninth with Tammy McConnell's Zacantos Z.
The road to HITS Championship Weekend continues through HITS Ocala this week as the winter winds down in the Horse Capital of the World. Major classes and Zoetis Million qualifying opportunities for high-performance riders in the $25,000 SmartPak Grand Prix and $50,000 Purina Animal Nutrition Grand Prix, both presented by Zoetis.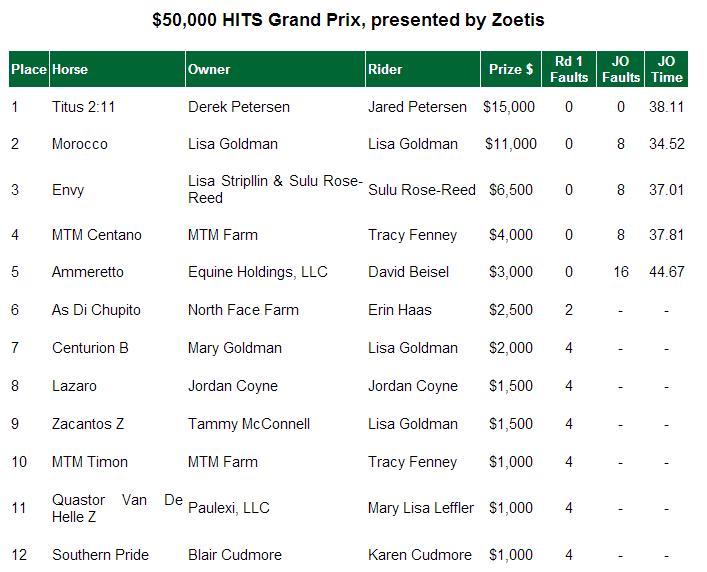 About HITS, Inc.
HITS, Inc. produces high-quality, international-level hunter/jumper horse shows. Based in upstate New York in the village of Saugerties, HITS has been producing shows since 1982 and is now a nationwide company with world-class circuits in California, Florida, Arizona, New York and Virginia. In 2010, HITS took the industry to new heights when it hosted the first-ever Pfizer $1 Million Grand Prix – now the Zoetis $1 Million Grand Prix. In 2011, HITS hosted the richest weekend in show jumping with the return of the Pfizer Million and the introduction of the Diamond Mills $500,000 Hunter Prix Final. In 2012, the historic weekend got even sweeter with the addition of the HITS $250,000 HITS Hunter Prix Final. This year, HITS will host a second $1 million class with the AIG Thermal $1 Million Grand Prix at HITS Thermal.
For more information and a complete schedule of classes and events, visit www.HitsShows.com. Stay connected with HITS, join us on Facebook or follow us on Twitter!
Media should contact the HITS Media Team at 845.246.8833 or e-mail Media_Info@HitsShows.com.