Traverse City, MI – July 14, 2012 – Alexandra (Alex) Rheinheimer, Horse Shows by the Bay Equestrian Festival Competition Manager and Owner was thrilled to be handing out award-after-award today to the many happy junior and amateur-owner competitors. "It is due to the generous support of the equestrian community, wonderful sponsors, as well as the hard work from my amazing team that enable these awards to be possible. To award nearly $35,000 in prize money in one day to our Junior and Amateur participants makes me incredibly proud," said Rheinheimer.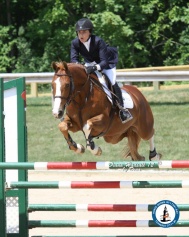 In today's Grand Prix Ring, overlooking the green rolling hills of Traverse City, a sea of vivid jumps awaited the riders for the $7,500 NAL Low Junior Amateur-Owner Jumper Classic and the $12,000 Show Jumping Hall of Fame High Junior/Amateur-Owner Jumper Prix presented by Mr. & Mrs. Bertram Firestone. With a course designed by Guilherme Jorge (San Paulo, Brazil) riders sailed over the jumps including the stunning new North American Riders Group (NARG) oxer and the iconic lighthouse vertical.
A field of 38 riders competed in the $7,500 NAL Low Junior/Amateur-Owner Jumper Classic but it was Melissa L. Orlick-Zbierski aboard Affier, a 8-year old gelding that finished first with a blazing fast time of 33.403 which was more than a second and a half faster to take the lead.
Orlick-Zbeirski who trains with Donald Cheska was the last competitor to ride but when asked if it was an advantage she said, "Sometimes it can be but it can also be stressful because the pressure is on."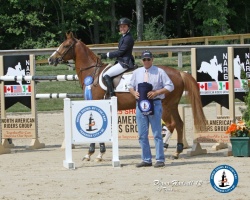 Placing second in the Classic was Horseflight.com Remiville, ridden by owner Maisie Mcswain and taking home the third place ribbon was S.F Carco and Angela Misch, owned by Les Cabrioles, LLC.
The $12,000 Show Jumping Hall of Fame Junior/Amateur-Owner Jumper Prix winner was Alex Parrish in the driver's seat on Valentina 156 an 11-year mare trained by Donald Cheska. With a smile on her face she said "it was smart moves and taking inside lines that pushed her over the top." The blue vertical wave jump was giving some riders trouble but Valentina simply cleared the fence with no problems. Parish dedicated her win today to Donald and Cara Cheska and the entire Bayside Farm team who splits their time between Wisconsin and Florida.
Cleopatra and Hannah Olson placed second in the Hall of Fame Classic and winning third was Alex Parrish again, but this time on Alexander Parrish's Frisco.
Cool overcast skies started the hunter riders off just right this morning at Horse Shows by the Bay. Soft sandy manicured rings and beautifully styled jumps greeted Amateur-Owner Hunter riders for their second day of competition this week, competing in the R. L. Polk Family Main Hunter Ring.
Today's course was designed by Blake Alder (Williston, Tennessee) and presented riders with a unique course replete with the beloved "Christmas tree" jump. Many riders remarked that the "in and out line" was placed perfectly away from the gate, giving riders the best landing spot to continue attacking the course.
Lindsay Lyden, trained by Fox Meadow Farm's Polly Howard rode her Dynamic, a 10-year gelding, to the championship tricolor out of an all ladies field in the 3'3" Amateur-Owner Hunter 18-35 Division.
Lyden said "the courses were set-up perfect and the handy round was challenging but nothing too difficult." She smiled when asked about showing at Horse Shows by the Bay, "I have been coming to this show since the beginning and it gets better each year. It is the perfect place to show in July plus you can add a vacation into the entire schedule."
In the 3'3" Amateur-Owner Hunter 35 and over Division, Missy Luczak-Smith and Susan A. Baker continued to turn out strong performances winning Champion and Reserved Champion respectively.
Luczak-Smith and her 7-year old gelding Encore is trained by the ever watchful Tom Wright who remarked, "that she asked for 100% but got 15o% today. Encore is a young horse but he did wonderful today." Luczak-Smith stated that she enjoyed "the handy course, it was technical but fun with all the rollbacks and starting with a trot jump was great."
Encore was also the recipient of the Equestrian Endeavor LLC's Grand Amateur-Owner Hunter Award for her efforts as they earned the highest amount of points out of all four Amateur-Owner Hunter Sections this week.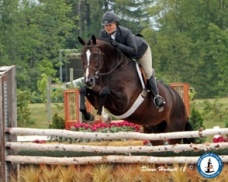 Lindsey George and Lindsey Roberts edged out the strong younger riders in the 3'6"Amateur-Owner Hunter 18-35 Division taking home champion and reserved champion honors.
George smiled as she accepted her champion ribbon and posed for the cooler presentation with her 11-year gelding Timber Ridge. George stated that "Timber Ridge is a once in a lifetime horse and the courses she rode today were set-up perfectly." Lindsey, trained by Shane George, capped off a stellar week in the Amateur-Owner Hunter Divisions and as a result of scoring 87 in one of their rounds was awarded the Hillside Farm WCHR High Score Amateur-Owner Hunter Award.
Lindsey Roberts aboard 'Catwalk' trained by Texas based Joan Waterman, took home the Reserved Champion. Roberts was pleased with her 10-year old gelding, stating that the "handy round trot jump was a challenge but still a great course." When asked about her experience at Horse Shows by the Bay, she remarked "everything here is top notch, the staff is great and the grounds are stunning."
Despite going off course in the handy round John Ingram continued his winning traditions this week with 'Superman' by taking home Championship honors in the 3'6" Amateur-Owner Hunter over 35 year old Division. Ingram commented "Superman is a lovely horse, so beautiful and quite." When asked about his handy round, he stated "Superman's second jump was just so fantastic, that I lost my head and went off course." Luckily, the week's strong performances still earned him with top honors.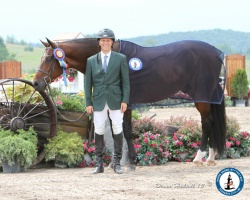 Also doing well in the 3'6" Amateur-Owner Hunter over 35 year old Division and taking home a Reserve Championship was Lynn Walsh aboard Mac Arthur Park trained by Peter Pletcher, also based out of Texas. Lynn credited her "entire team for keeping her going and preparing her horses." Riding both Mac Arthur Park and her other horse Ocean Park in the same division is "exhausting but without my team this wouldn't happen." Walsh closed with "the footing here at Horse Shows by the Bay is outstanding."
Rounding out a fabulous day, Lynn Walsh continued her winning ways with Ocean Park by leading the $1,000 Amateur-Owner Hunter Classic field with 167 total points. Walsh was beaming with her blue ribbon and cooler as she led the field on a victory gallop. When asked about how her week was going she remarked, "Wonderful!"
In the adjacent Ring 3, the Adult, Junior and Children's Hunter Divisions got underway. Championships, Overall Grand Championship and High Score honors will be awarded tomorrow, Sunday, July 15, 2012.
For complete results, please visit www.horseshowing.com. For more information on the Horse Shows by the Bay Series, please visit www.horseshowsbythebay.com.