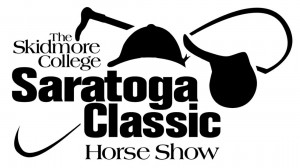 Saratoga Springs, NY. June 15, 2013- Despite days of torrential rain all exhibitors were able to compete in the divisions in which they were entered. The Skidmore College Saratoga Classic Horse Show (SCHS) staff worked tirelessly to move classes and adjust the daily schedules so that everyone would get their time in the ring.
"There was so much rain on Tuesday that we made the decision to save the footing and cancel the first day of the show that day and it certainly paid off," said Adele Einhorn, Executive Director of SCHS. "We knew canceling was the right thing to do.  It took strategic planning and perhaps a few longer days on the backside, but we wanted to ensure that all divisions would still run. Thanks to our great staff we managed to successfully accomplish our goal and had great footing in all of the rings. We heard nothing but rave reviews on the footing and how we handled the situation.  We are thankful to all our exhibitors for being patient and flexible."
The highlight of Week One of SCHS was the USHJA Hunter Derby. Kristy McCormack-Herrera clinched first place aboard Temptation. Amanda Derbyshire placed second on Romance. Patrick Rodes show manager and course designer, designed the challenging derby course to enhance the judging system of rewarding great jumping style and athletic ability as well as bold hunter riding.
"This derby was particularly special for me because this is my favorite horse show of the year, and it was my first derby win," said the class winner, Kristy McCormack-Herrera.  "I was third in the derby last year on the same horse so it was really great to win this time out.  It was also special because I was competing with one of my clients who actually ended up fourth, and that for me was even more heartwarming than my amazing win.  Patrick Rodes did a great job with the course.  It was really well put together and there were nice options especially for my horse.  Patrick certainly made the big options BIG and that added to the thrill of the class."
The Hunter Derby was fun to not only participate in but also to watch. The silent auction was open for bidding twenty-four hours leading up to the Derby. Prizes were given out as well during the Derby. SCHS promotes the concept that you do not have to win in the ring to be a winner. Local stores and vendors on the show grounds provided auction items and prizes to distribute to exhibitors and spectators alike. These prizes and activities engage everyone in the horse show experience.
The $10,000 Yaddo Open Jumper Classic was the big money jumper class of the week. It allows those competing in next week's $25,000 Landgero Cup Grand Prix to get some time in the ring. Benjamin Simpkins took home the blue with Chopin Z. Robert Lee and Steven Weiss were second and third respectively.
SCHS offers a large array of marketing and sponsorship opportunities at all levels of support.  At Skidmore, Creative Thought Matters, and we are happy to meet individual needs by developing customized options for corporate promotion and marketing opportunities, as well as personal donor options.  Our mission is to provide you with valuable marketing and meaningful sponsorships.  This event is the College's single largest fundraiser and has generated more than $3 million in scholarship support.
For more information please visit: http://www.skidmore.edu/saratogaclassic or call 518-580-5632/5633.
Skidmore College Saratoga Classic Horse Show: The shows, inaugurated in 1927 and brought back to life in 1998, are a highlight of the early summer season in Saratoga Springs. This top-level historic competition attracts many of the country's best horses and riders and benefits scholarships to Skidmore College students.