Traverse City, MI – July 21, 2012 – Kelley Farmer knows her derby strategy. In fact, the Virginia-based professional, a two-time USHJA International Hunter Derby series Rider of the Year, regularly picks up Derby wins all over the country aboard a variety of hunters.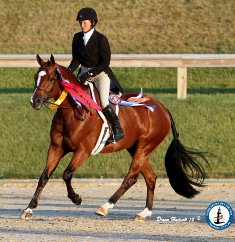 So, it was no surprise that one of Farmer's seven mounts in the 43-horse field rose to the top to claim the $20,000 USHJA International Hunter Derby, hosted by the Gochman Family, during the Horse Shows by the Bay Equestrian Festival.
What was unusual-and made this class so exciting, was that a rider known for her grand prix jumper prowess gave Farmer a run for the money Friday evening.
Molly Ashe-Cawley, riding Kennzo, just missed taking the blue but settled for second place. Afterward, Ashe-Cawley was good-natured about following Farmer in the victory gallop, and perhaps, with a little more Derby experience under her belt it might have been a different outcome.
"In hindsight, I wish that I had more 'oomph' right off the bat and had taken a few more chances in being handy, but I had a lot to lose if I didn't pull it off correctly," said Ashe-Cawley. "Having not done the hunters much lately, I was a bit conservative and left the door open for Kelley coming in last to go."
And, of course, if there was a door left open, Farmer had the skill and knowledge to push it open. She guided Taken to a beautiful and efficient handy round that, when combined with their first-round score, propelled them to the top before a record crowd enjoying a lavish exhibitor party, co-sponsored by Outback Steak House and Wrenwood Farm and Jenny Sutton.
"Taken simply knows me, and he's learned how to overcome me," said Farmer with grin. "We're thrilled at his performance today, as this is his first win with his new owners (Jessica and Steve Stitt), and they were here tonight to watch!"
Four judges sitting in pairs-Anne Braswell/Kim Dorfman and Bob Braswell/Paddy Downing-presided over the class, which was held as a tribute in the memory of legendary horseman Stanley W. Rheinheimer, late husband to Valerie Rheinheimer who dedicated the 'Over the Rails' trophy in his memory in 2008. A special Horse Shows by the Bay orange-and-blue ribbon commemorated the special class, and Taken and Farmer will have their names engraved on the impressive trophy.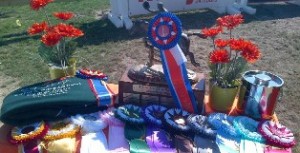 Patrick Rodes and JP Godard designed a spectacular course that used natural obstacles of hay bales, split rails and white picket fences, beautiful landscaping items and obstacles indigenous to the hunt field.
The Classic Round provided riders the opportunity to make several decisions as to whether they had confidence in jumping 4-foot options or preferred to stay with the 3'6″ options, and which lead their horses were more comfortable jumping from.
Their design was unique because they offered two separate tracks, one at 4-foot off the left lead and the other at 3'6″ on the right lead, providing mirror images of the course with the only difference being the height.
Four of Farmer's seven horses made the 12-horse cut to return the Handy round: Red Sky, Bases Loaded, Praise and Taken, who ultimately entered the Handy Round in the lead with a Classic round total of 194.
Peter Pletcher also had the odds stacked in his favor with six Derby mounts: NLF Shakespeare's Rhythm, Valobra, Carlano, Tell All, Savvy and Copperfield. Three made the cut-off to come back in the Handy Round, and he eventually placed fourth (Copperfield), fifth (Tell All) and eighth (Valobra).
Riders with single entries managed to beat the odds, however, with Ashe-Cawley on Kennzo leading the pack while standing second going into the Handy Round with a score of 188.
The amazing 7-year-old stallion Ammeretto, who had earlier in the morning finished fourth in the $10,000 Open Jumper Welcome Prix with David Beisel in the irons, donned his evening attire and standing martingale and placed fifth in the Classic Round and seventh Overall for owner Equine Holdings LLC.
Another open jumper rider, Martien Van der Hoeven aboard Cr Beethoven, earned a combined score of 173, positioning him in the sixth slot coming into the Handy Round. The pair eventually placed ninth overall.
Although Ashe-Cawley and Kennzo scored better in the Handy Round than Farmer did aboard Taken, she wasn't able to overcome the 4-point lead that Farmer had established in the Classic Round. Farmer also clinched third aboard Selma W. Garber's Praise, after earning the best Handy Round score, and sixth with AM Free Inc.'s Bases Loaded. Red Sky, the victor for Farmer in last week's $25,000 USHJA International Hunter Derby in Colorado, took 10th.
Ashe-Cawley praised the courses and enjoyed her rare appearance competing in an International Hunter Derby.
"Patrick and JP did a great job of changing things up a bit by forcing us to make a critical decision," she said. "Do we risk jumping the higher options knowing that we have to stay with an entire 4-foot track versus just picking and choosing single jumps, or do we play it safe and stay with the lower options throughout the entire course? It was so nice to see something quite unique and different."
Featured events remaining this week during Series III of Horse Shows by the Bay include:
A Fancy Hat Brunch, sponsored by Northern Pines Farm and Maureen and John Wendon, will be held during the hunter competition on Sunday, July 22nd in the R.L. Polk Family Hunter Ring's VIP Tent from 9 a.m. to 11 a.m. Attendees are encouraged to wear their fanciest hats.
A record field is expected to compete in the $30,000 Grand Prix of the Great Lakes on Sunday July 22 at 2 p.m. in the Grand Prix Arena.
Full results can be found by visiting www.horseshowing.com. For more information on the Horse Shows by the Bay Series, please visit www.horseshowsbythebay.com.