Zionsville, IL – August 11, 2013 – The Traders Point Hunt Charity Show grounds were a buzz with activity anticipating the $15,000 USHJA International Hunter Derby held in the Grand Prix field of the gorgeous Wild Acres Farm. The horse show did not disappoint spectators with activities for the whole family including pony rides, bouncy houses, shopping and plenty of food. Spectator and VIP tents were adorned with flowers and filled with both local and out of town spectators to watch the big event. What spectators didn't know was that they were witnessing history being made.
Phil J. Devita designed the thirteen jump derby course, making use of the hills in a serpentine type course with jumps donated by Diane Carney. Jumps included coops and split rails, a sod roll top, a snake jump, some rustic gates and a special Trader's Point natural jump on top the small hill in the middle of the field.  Nineteen horses took on the challenge to catch a score from the four judge panel that would get them into the top 12 for the handy round. The judges were Linda Andrisani, Sue Ashe, Scott Hoffstetter, and Jimmy "Walter" Lee.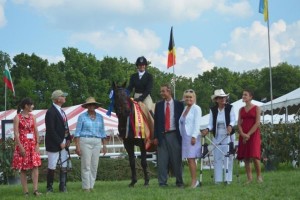 Kelley Farmer takes the top two spots aboard Mythical and On Q in the $15,000 USHJA International Hunter Derby at Traders Point Hunt Charity Horse Show.
A few rails and refusals narrowed the field to the top 12 with Kelley Farm, Keswick, VA, leading the way with Mythical, owned by Kenneth Garber and Larry Glefke, with a smooth round and a score of 190. Close behind was Holly Shepherd with her Grand Prix mount Triompf, owned by Loretta Patterson. Shepherd was very smooth and consistent, galloping to a score of 185. Taking the third spot in the first round was Aaron Vale and Zenith UHS owned by 2VR Showjumpers.  Vale piloted the handsome bay to a 181.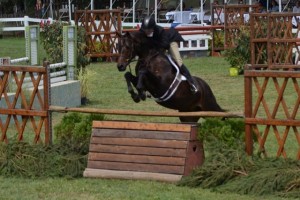 Kelley Farmer and Mythical make history in the Traders Point USHJA International Hunter Derby
Finishing fourth were the Caroline Weeden of Antioch, IL and The Spy, followed by two more Farmer mounts, On Q and Skorekeeper.  Seventh went to Corvine ridden by Piper Benjamin and eighth to Relevant and Kalvin Dobbs.  Taking the ninth spot was Belle Fulmer's All That ridden by Emily Williams and Ferrari with Russell Frey, filled the tenth place.  Finishing off the top twelve was Crack On with Caroline Weeden and Tory Burch, another ride for Emily Williams.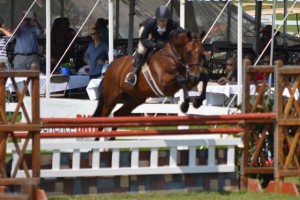 Caroline Weeden and The Spy rode to the third place finish in the $15,000 USHJA International Hunter Derby.
After a small course adjustment changing the direction of the oxer oxer two stride and the final green and white oxer, riders battled out the handy round for the top handy scores. Returning in reverse order, low score to high score, the top horses in the handy round galloped the first four jumps then had to roll back to a trot jump placed next to the open water jump in the field. When walking the course, several riders made mention that the water might possibly spook their horses. But the water didn't seem to shake this field.  Many in the second round chose not to do some of the higher options. Riders tried to make handy turns to the Traders Point jump on the hill, then tidy to the two stride and finish with a gallop to the single oxer.
Returning in the tenth spot, Frey and Alexis Cohen's Ferrari galloped a smooth round and moved up the ladder with a 186 to finish second in the handy round. A few horses later, Farmer and her mount On Q, were the first and only pair to make a tight inside turn from the Traders Point hill to the two-stride combination, earning them generous handy points and clinching the third spot in the second round with a 182.5.   Vale and Zenith UHS, returning in the third slot from the first round, galloped a beautiful track in usual Vale style, but had a heart wrenching stop at the trot jump, knocking them to the lower slots.
Left to battle out the second round was Shepherd with Triompf and Farmer with Mythical.  Shepherd kept a good gallop, as her Grand Prix mount is no stranger to a speedy second round. But it was Farmer and Mythical who galloped to the smoothest handy round and a score of 202. After doing the inside turn on On Q, Farmer opted to take the longer approach to the combination on Mythical, earning high scores for smoothness and form.
Farmer commented, "We love the derby on the grass here. The jumps are big and tough. It definitely helps get ready for the finals."
When the dust settled, it was Farmer taking the top two awards and the prize money to go with them, putting her total hunter rider earnings over the $1 million dollar mark.  Farmer is the first hunter rider in history to join the Million Dollar Club and currently, 9 other U.S. jumper riders, including Aaron Vale, who have won over a million dollars in prize money.
"I wasn't sure it was going to happen, especially before finals," said Farmer regarding the earnings. "I owe it to the derbies, otherwise it would still be a difficult thing to do. As much as Larry won in his career, it just wasn't possible before to win that kind of money. It's an amazing accomplishment and it's not only mine but everyone's. I owe it to USHJA, the sponsors, the owners, the great horses we have and Larry. It's a milestone for everyone."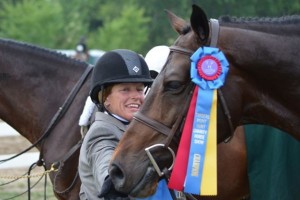 Kelley Farmer is the first hunter rider to earn  $1 million in prize money, thanks to the Hunter Derby program.
The USHJA (United States Hunter Jumper Association) began tracking earnings in 2005 and awards riders for their achievements. The first USHJA International Hunter Derby Finals was held in 2009. The popularity of the USHJA International Hunter Derby continues, now offering 61 Member Event classes throughout the country. The 2013 Derby Championship is scheduled for August 16 and 17, 2013, at the Kentucky Horse Park in Lexington, KY.  The Derby Championship offers over $100,000 in prize money. The program was designed to bring interest back to the hunters and improve basic riding principles.
The Traders Point Hunt Charity Horse Show, now in its 36th year, continues with the $5,000 USHJA National Hunter Derby and the $75,000 Grand Prix of Indianapolis. Proceeds from the event benefit the Riley Children's Foundation.
For more information on the Traders Point Hunt Charity Horse Show, please visit www.stadiumjumping.com.
$15,000 USHJA International Hunter Derby
1 / 146 / MYTHICAL / KENNETH GARBER GLEFKE,LARRY / KELLEY FARMER
2 / 138 / ON Q / CH FARM, LLC / KELLEY FARMER
3 / 203 / THE SPY / GLORY DAYS FARM,LLC / CAROLINE WEEDEN
4 / 215 / TRIOMPF / LORETTA PATTERSON / HOLLY SHEPHERD
5 / 71 / FERRARI / ALEXIS COHEN / RUSSELL FREY
6 / 197 / CORVINE / PIPER BENJAMIN / CAROLINE WEEDEN
7 / 139 / SKOREKEEPER / L. GLEFKE QUAIL RUN PTR / KELLEY FARMER
8 / 496 / RELEVANT / TREESDALE FARMS / KALVIN DOBBS
9 / 475 / ALL THAT / BELLE FULMER / EMILY WILLIAMS
10 / 242 / ZENITH UHS / 2VR SHOWJUMPERS/AARON VALE
Traders Point Hunt Charity Horse Show and Country Fair Fast Facts:
What:
The Traders Point Hunt Charity Horse Show and Country Fair is pleased to announce their 36th benefit horse show and country fair in Zionsville, IN. The location makes for a relaxing and fun show experience. Competitors are welcome to enjoy the horse trails on the property.
Highlights:
The Traders Point Hunt Charity Horse Show has a Jumper 5 star rating, is Hunter rated AA and is a WCHR member event. 2013 highlight events include:
* $75,000 Grand Prix of Indianapolis
* $35,000 Mr. and Mrs. Russell Fortune Jr. Memorial Grand Prix
* $15,000 PNC Bank Junior/Amateur-Owner SHF Jumper Classic
* $15,000 USHJA International Hunter Derby
* $5,000 NAL Low Junior/Amateur Jumper Classic
* $2,500 Adult Jumper Classic
* $1,000 Adult Hunter Classic
* $1,000 Children's Hunter Classic
* $1,000 Junior Hunter Classic
* Garden Party benefitting Riley Hospital for Children
* A Taste for the Cure
* Paws to Applause Dog Show
* The Riley Children's Foundation Kid's Day and Country Fair
Where: Zionsville, Indiana
When:
August 6-11, 2013
Prize lists available online at:
http://server1.charityadvantageservers.com/client/TPHCHS_Co_KD7M0YWE3/Prize%20List%202013.pdf
For general inquiries please contact:
Debra Jaramillo at 317-205-5827 or  TPHCHS@aol.com
For more information, please contact:
Stabling Office 317-873-5552 (During Show Dates)
Show office 317-873-3418 (During Show Dates)
Address: P.O. Box 402 Zionsville, In 46077
Beneficiary: By supporting the Traders Point Hunt Charity Horse Show, you are helping to bring hope and healing to children from every county in Indiana. The Riley Children's Foundation honors its mission – to improve the health and well being of Indiana's children – through Riley Hospital for Children, Camp Riley for Youth with Physical Disabilities, and the historic James Whitcomb Riley Museum Home. To learn how you can do more to help Indiana's most seriously ill and injured children, visit
Hotels:
Hilton Garden Inn Indianapolis NW-Full Service Property
6930 Intech Boulevard
Indianapolis, IN 46278
Reservations: 1-317-288-6060
La Quinta Inn Indianapolis North
3880 West 92nd Street
Indianapolis, IN 46268
Reservations: 317-872-3100
Embassy Suites North-Full Service Property
3912 Vincennes Road
Indianapolis, IN 46268
Reservations: 1-888-875-2580
Renaissance Indianapolis North Hotel-Full Service Property
11925 North Meridian Street Carmel, In 46032
Reservations: 317-816-0777
For more information please visit www.stadiumjumping.com.
Like Traders Point Hunt Charity Horse Show on Facebook: