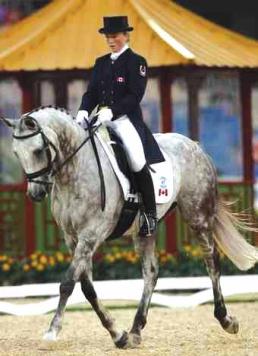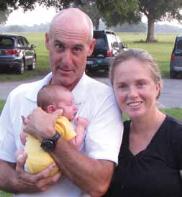 12 SIDELINES SEPTEMBER 2011
FOR HORSE PEOPLE • ABOUT HORSE PEOPLE
Samantha
competing
Livewire, her
Olympic partner
Five Questions for Samantha St Jacques
By Jan Westmark-Allan
Samantha St Jacques and her horse Livewire
were members of the 2008 Canadian Olympic Three
Day Eventing team, a feat most riders spend their
lives dreaming about. That accomplishment pales in
comparison to Samantha's recent achievement -- giving
birth to her son Stirling Keaton St Jacques. Samantha
and her husband, dressage rider Pierre St Jacques, are
happy and in love with their new bundle of joy and she
is thrilled with this new stage in her life. (Pierre is also
featured in this issue of Sidelines, so read about him, too!)
"Stirling is truly amazing and we are having so much fun
with him!" Samantha said. Samantha and Pierre met in
Ocala, when Samantha took a lesson with Pierre. "Pierre
was teaching at a barn next to where I was keeping
my horses and I went for a lesson with him. We loved
spending time together right away." Now married, the
couple owns St Jacques Equestrian in Ocala.
Samantha and Pierre both grew up in Canada, and
while Pierre has become an American citizen, Samantha
still rides for Canada and doesn't plan on changing her
citizenship. While Samantha is excited to embark on a
career as a mommy to little Stirling, she is still passionate
about horses. "I am fortunate that I have been able to
turn my passion into a career," she said.
Sidelines:
How did your riding career begin?
SSJ:
I grew up in Vancouver, Canada and began riding at
a local hunter -jumper stable where I met my coach, Sarah
Bradley, who introduced me to Pony Club and eventing. I
continued to ride with Sarah for several years and learned
about eventing from her. When I still lived in Canada I
also rode with Nick Holmes-Smith, Robyn Hahn, Therese
Washtock and Chelan Kozak. I moved to the east coast
when I was 18 and have ridden with numerous eventing
trainers such as the O'Connors, the Davidsons, Leslie
Law and Phillip Dutton. My husband, Pierre, has been
helping me for the past four years with dressage.
Sidelines:
What do you consider your career highlights?
SSJ:
My career highlights include seventh place at
Jersey Fresh CCI*** in 2006 where I was the highest
placed Canadian rider, tenth place at Fairhill CCI*** in
2007, being named to the Canadian short list from 2006
to 2008, being an alternate for the 2007 Canadian Pan
American Eventing Team and being a member of the
2008 Canadian Olympic Team in Hong Kong.
I found my Olympic horse, Livewire, in Canada as a two
year old and trained him myself.
Sidelines:
What are your riding goals?
SSJ:
My riding goals include competing at the highest
level of eventing again. I have some really nice young
horses that I am pretty excited about that will hopefully
help me to get to the CCI**** level again.
Sidelines:
What have you and Pierre accomplished
SSJ:
Together we have developed St Jacques Equestrian
where we continue to train and sell horses. Everything
that we accomplish is a team effort and we are highly
supportive of each other so any individual success that we have
is a huge credit to the other partner as well. I am also thrilled
about being a mom. I think that our most recent and exciting
accomplishment is our little boy.
Sidelines:
How does it work with an eventer being married to a
SSJ:
I think an eventer and a dressage rider are a great
combination. Pierre and I compliment each other really well. I
have learned so much from him and I think that he has enjoyed
learning more about the sport of eventing and the training and
conditioning of event horses.
Samantha and
Pierre welcomed
their new son
Stirling Keaton St
Jacques into the
world on June 30,
2011