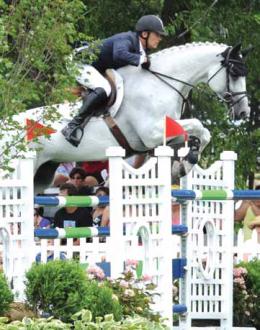 26 SIDELINES SEPTEMBER 2011 
FOR HORSE PEOPLE • ABOUT HORSE PEOPLE
for the Hunter Derbies and placed second his frst time out at the
"Carlos Boy is great," says Scott. "He feels great, too, and he
won the Hunter Derby at Lake Placid (I Love New York Horse
Show in July) – he's a very smart and intelligent horse. He just
knows what you're thinking all the time."
In terms of their schedule, Scott isn't into running from venue
to venue. He says he might show at fve or six in Florida. They
hit the road for Kentucky to spend one or two weeks at the Horse
Park, then Devon, Upperville, Saratoga, and Lake Placid for two
weeks. After that there's a break – Scott and Ken are off to Europe
to travel and look a horse or two here and there – and he doesn't
show again until Hampton Classic.
"We don't do as many shows as most people and we try to
select the horse shows and focus on the best one for the horses,"
says Scott. "We don't go from one show to the next. The horses
don't need to show like that. When we get to the horse show, we
want our horses fully prepared and really have a nice competitive
What advice does he have for hunter riders in general based on
what he sees at shows? His answer was surprising in its candor:
to do your schooling at home and then do as little as possible
once you're on the grounds.
"I think that works best – you don't want to waste your horse
in the schooling ring," says Scott. "At the show, just jump a few
jumps and get him into the ring. I think there's a lot to be said for
doing your training at home so that when you get to the show,
you're ready. Don't waste a thousand jumps in the schooling or
warm-up classes. Just get your horse ready and get in the ring."
Carlos Boy enjoyed grand prix success with jumper rider Ken
Berkley before re-inventing himself as a hunter: shown here with
Scott Stewart, winning the $15,000 USHJA Hunter Derby at the
34th Annual Intercat, Inc. I Love New York Horse Show
Photo © 2011 Parker/Russell-The Book LLC