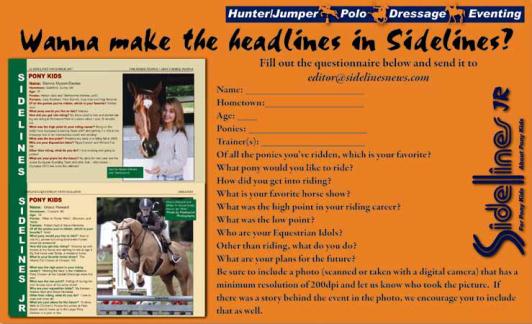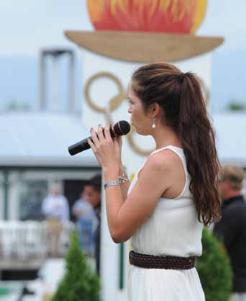 36 SIDELINES SEPTEMBER 2011
FOR HORSE PEOPLE • ABOUT HORSE PEOPLE
friendly humble individuals.
Joey Darby
Susie Schoellkop
Equestrian Aid Foundation
of the places they have applied for assistance. The website is
www.Equestrianaidfoundation.org
Jack through a very diffcult time. Send a donation earmarked for
Jack and Linda to: Equestrian Aid Foundation, 11924 W Forest
Hill Blvd., Suite 22-377, Wellington, FL 33414.
Horse Show News:
The Buffalo
International Horse Show
will host its 65th annual hunter/Jumper competition this fall at the
Buffalo Therapeutic Riding Center on September 14-18. The
horse show will host a number of special classes in their large
indoor arena, with great prize money and exciting competition to
beneft the Buffalo Therapeutic Riding Center. Don't miss it – a
great start for the indoor season.
Have you had a chance to visit
Flintfeld Horse Park
Traverse City, Michigan area? The view overlooking the grand
prix ring is unparalleled and the summer weather in this super
vacation area couldn't be beat. Amateur Jumper Rider,
Tracey
Weinberg
calls it nirvana and she is right!
The Brandywine Summer Series
boutique horse show at the Devon Show Grounds has gotten off
to a great beginning and promises to be one of the best hunter
shows on the summer circuit. If you didn't make it this year, don't
Franktown Meadows USHJA International
Hunter Derby
has some very generous contributors.
Diane
Carney
Rush Weeden
donated the jumps for this year's
event. The prestigious derby will take place on September 5,
at the Franktown Meadows Equestrian Facility in Carson City,
Nevada, and will beneft ALS of Nevada.
Continued from page 30
For the second year, Hillary Dobbs took center stage in the
Grand Prix feld at the Lake Placid Horse Show where she
sang the Star-Spangled Banner during the Lake Placid Horse
Show's 4th of July celebration!
Photo by James Leslie Parker