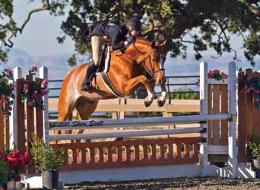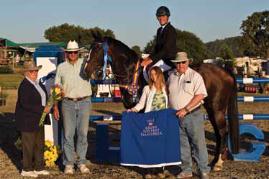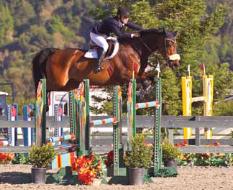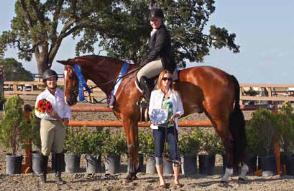 42 SIDELINES SEPTEMBER 2011
FOR HORSE PEOPLE • ABOUT HORSE PEOPLE
The Competition was Hot at
Woodside Summer Circuit
By Jennifer Walker for LEG Up News
The Woodside Summer Circuit offered two action
packed weeks of jumping excitement at the Woodside
Circuit Opener (June 22-26) and the Bay Area Summer
Festival (June 29-July3), including everything from the
$20,000 Bayfest Grand Prix to Opportunity Walk-Trot.
The highlights were the Saturday night grand prix and the
Friday night $2,500 USHJA National 3' Hunter Classics.
The juniors ruled the $10,000 Woodside Jumper Clas-
sic the frst week, when Haley Roberson (Rachel Yorke,
trainer) was victorious with Chantre (Equinity, LLC, own-
er), followed by Brittany Albrecq (Jenni Martin-McAllister,
trainer) aboard her Union Jack. The two juniors edged out
professionals after putting in the only double-clear rounds.
The $20,000 Bayfest Grand Prix was the highlight of
week two, and it was Jenni Martin-McAllister and Glados
(Marnco, owner) who took top prize and a $1,000 gift
Hope Glynn and Chance of Flurries won the week 2 Hunter
Classic
certifcate courtesy of the CWD Jumper Rider Bonus with the
only double clear performance. Haley was second on Chantre,
followed by Peter Breakwell and Lucas (No Drama, owner).
In the $2,500 USHJA National 3' Hunter Classic, Julie Keville-
Young took the top prize in week one with her Georgetown after
putting in two solid and stylish rounds. She had only owned the
horse for about two months, and they are already shaping up to
Hope Glynn has been the mistress of these derby style classes,
and she showed her prowess once again at the Bay Area Summer
Festival. She took the top spot with Chance Of Flurries (Helen
McEvoy, owner), and she also coached Avery Hellman to third
and High Score Amateur on her Rococco and ffth on Woodstock
(Sabrina H. Hellman, owner). Hope's student Emma Townsend
was eighth on her CR Habibo, and Haley Webster was tenth and
High Score Junior on Biarritz (Blaire Kingsley, owner).
The Woodside show season resumes September 2-4 with the
Woodside Labor Day Classic.
Jenni Martin-McAllister and Glados had the only double
clear round in the Bayfest Grand Prix
All photos by Sheri Scott
Haley Roberson and Chantre were the best in the $10,000
Woodside Jumper Classic the frst week
Julie Keville-Young and Georgetown took home the blue ribbon
in the USHJA National 3' Hunter Classic.