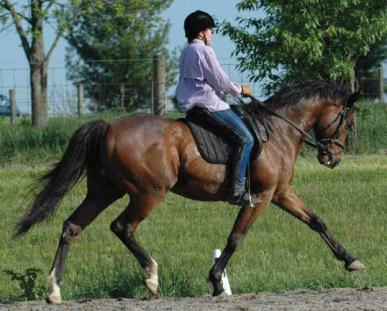 FOR HORSE PEOPLE • ABOUT HORSE PEOPLE 
SIDELINES SEPTEMBER 2011 59
In 2006, before the Kentucky
Rolex 3-day event, Iroquois
Huntsman Lilla Mason took a
dressage lesson with her trainer
Elaine Gibala and her hunt horse,
Bonus, who fve years later, in
June, showed Prix St. Georges
for the frst time: Lilla hunts
hounds with this horse and uses
dressage training for all the hunt
horses in her care
Photo by Lauren R. Giannini
the hunt feld to know for sure what 'forward and through' is! If you
put a horse like Bonus who isn't used to being behind someone in
the hunt feld, all he wants to do is catch up, but I could harness
that energy in collection, and that was 'forward and through.' All
the riding in the ring never showed me what it was like. Who
would think you could learn about dressage out hunting?"
Lilla still considers that the most important thing about hunting
her fourth level horse was being able to get back into the saddle
sooner and more safely than she could have without an upper
Hunter Dressage
"What Elaine has given to me is like the Encyclopedia of the
Horse and I thumb through the pages or I go to my toolbox,"
says Lilla. "Things like turns on the forehand or shoulder-in – all
these things that you learn as you go up the levels in dressage
are very applicable in the hunt feld. Most problems occur when
your horse tries to take over: most
do
try, and I think that's what
scares riders, too. But with dressage, even thinking about a turn
on the forehand will get their attention back on you and you regain
control. It's a valuable thing for your riding because all that stuff
you learn is going to be useful at some future time."
Bonus is the only one so far to advance that high through the
levels. Lilla has another horse named Farcical, which Elaine
thinks is better than Bonus.
"Farcical isn't a lazy horse, but he's not a forward horse. He's
the one I got hurt on because he gets in front and then he won't
go forward," says Lilla. "Galloping after hounds, you want a horse
that's hot off your leg. So we did dressage, and last year people
in the feld asked me what I did to that paint horse. Dressage has
completely changed him. He's a much more useful hunt horse."
When it comes to hunting a pack of hounds, Lilla has an even
stronger argument for the benefts of dressage. She doesn't want
to be thinking about her horse all the time.
"The hounds are sensitive tomymood and I can't be encouraging
and focused on the hounds if I'm fghting with my horse. It ruins
the harmony," she explains. "It's especially important that I have
a horse that does as I ask with just as much ballet as the pack of
hounds around my feet. A dressage horse is sensitive to your seat
position – you change your weight and they turn. It's much easier
to do my job as huntsman if I have a horse trained in dressage."
Lilla gives a fair amount of credit to Elaine, who has taken
numerous people and horses to Grand Prix. An excellent
communicator, Elaine trains her students to be trainers
and
"I have never brought a horse to Elaine that she couldn't solve
the problem within a half hour," says Lilla. "It doesn't matter
if a horse is running through the bit in front of a fence or even
whinnying while he's whipping-in: both can be solved through
fat work exercises. I do dressage with all our hunt horses. It
teaches them to carry themselves better and that helps them to
stay sounder. I don't think I would be interested in dressage if
I had gone to Elaine and all she wanted me to do was ride the
perfect 20 meter circle!"
Dressage scratches a competitive itch, too. Lilla didn't think it
was fair to ask Bonus or any of the horses to hunt hard all season,
often going 12 to 22 miles each time hounds go out, and then
Gold is the Goal
"My goal is to get my gold medal. I need two scores of 60%
to get my silver medal at Prix St. Georges, and it doesn't matter
if I place or not," says Lilla. "I don't have to go to a show again
until I get to Intermediaire when I go for my gold medal. It's the
profciency level that I want and I can do it without winning every
"Dressage freshens a horse's brain," she adds. "I work really
hard, then Bonus goes out hunting hounds and he gives a big
sigh and relaxes. I think the same qualities that make a great
dressage horse make a great hunt horse. Bonus always knows
where his feet are. Not to hunt him would be like having a sports
car and never driving it fast on
country roads. If you have a great
dressage horse, why not take it for
a spin in the real world? Riding
a horse like that cross country is
the most marvelous feeling. It
doesn't matter whether you're out
front with hounds, whipping-in, or
a member of the feld. Dressage
gives you a better horse with a lot