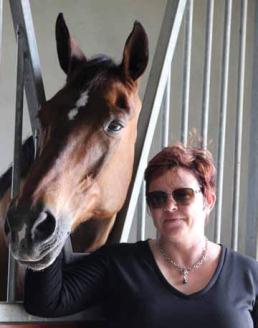 62 SIDELINES SEPTEMBER 2011
FOR HORSE PEOPLE • ABOUT HORSE PEOPLE
By Jan Westmark-Allan
Tami Hoag is a great many things: a world-famous New
York Times bestselling mystery and thriller writer with more
than 35 million books in print in more than 20 languages;
an extraordinary horsewoman and dressage rider who
competes on the Grand Prix circuit, frst as an amateur
and now as a professional; a goal-oriented person who in
addition to writing non-stop has competed at Devon and
has a stable full of horses; a funny lady with a wicked
sense of humor (see her answer below about how many
horses she owns); and, last but not least, Tami is a friend of
Sidelines Magazine.
In 2002, Tami wrote the suspenseful page-turning novel
Dark Horse, set in Wellington on the show jumping circuit.
(A must-read for horse people, especially if you have ever
visited Wellington). The book is a glimpse into the dark
side of the equestrian world and while the novel had horse
people everywhere trying to guess who was who, the book
is, in fact, fction. There are a few parts based on real life,
however, including Tami's horse D'Artagnon who appears
in the book and a mention of Sidelines Magazine. When
Elena Estes, the main character in Dark Horse, looks for
a job she turns to the classifed section of Sidelines, thus
introducing readers around the world to the magazine.
Thanks Tami!
"I wrote Dark Horse back in the day when Sidelines was
still done as a newspaper rather than in the magazine
format. It's such a fxture of life here among the horsey set,
I couldn't write a book set in Wellington without mentioning
it!" Tami said.
Since Dark Horse was published, Tami has written
several more novels including the sequel to Dark Horse
called The Alibi Man, another spine-tingling tale set in the
horse world featuring Elena Estes. We caught up with
Tami at her home in Wellington, where she is glued to her
computer as she pounds out yet another novel. Despite
the fact that Tami is known to her fans as a writer, she is
known to many as a rider. In fact she has her sights set on
competing in the Olympic trials. So in her own words, Tami
tells us frst about her literary life and then about her real
passion – her horses – ending with great advice for would-
be writers and riders everywhere!
Sidelines:
Fans are always asking you if there will be a
third Elena Estes novel. Will you write again about the
TH:
First of all, I'm really glad that fans connected with
Elena.  She's a complex and diffcult character, and I love
writing her.  I would love to do another book with her at the
center of it, but she's got to wait her turn.  For me, ideas
are like planes waiting in line for the runway.  There are a
couple on the tarmac ahead of her.
Sidelines:
Do you have a favorite book that you have
Readin'Writin' and Ridin'
Sidelines' Favorite Mystery Writer
Tami Hoag
TH:
People never believe this, but I don't play favorites. Each
book is its own unique experience, and once I'm done with it, I
Sidelines:
How do you balance your writing career with you riding
TH:
I'm under contract to do a book a year.  I have worked faster
than that, but it about killed me, and left me no time or energy
to have a life outside my offce.  My horses are a big priority
for me.  I'm at a point in my life where I'm simply not willing to
compromise on certain things like pursuing my riding career and
spending time with my friends.  I always say no one will be on their
deathbed wishing they had given up the things they love in order
Sidelines:
What book are you working on now?
TH:
I'm working on a book called
Down the Darkest Road
is set to be released at the end of the year.  It's the third in the
Deeper Than The Dead
Secrets To
The Grave.  
The story revolves around a woman whose sixteen-
year-old daughter was abducted and has been missing for four
years.  She doesn't know if her child is living or dead.  She -- and
the police -- believe they know who the perpetrator is, but they
have no physical evidence against him.  All they have is a tiny
Tami enjoys a moment with Feliki – a horse who has taught Tami
how to live