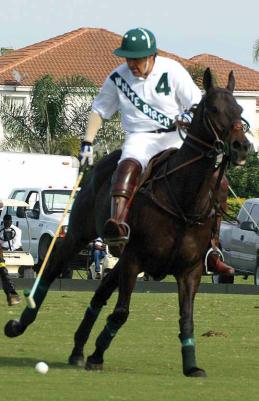 76 SIDELINES SEPTEMBER 2011 
FOR HORSE PEOPLE • ABOUT HORSE PEOPLE
By Danika Rice
The glitz and glamour often associated with summer
in "The Hamptons" of New York's Long Island has
always had a mass media appeal as a spotlight for the
lifestyles of the rich and famous. Earmarked for its
spot in the social summer scene, Bridgehampton Polo
Club has played host to some of the largest and most
notably "star-studded" crowds in the country, with last
year's match attendees including the Kardashian sisters,
Star Jones and Chase Crawford, along with the polo
industry's polo/model spokesmen Nacho Figueras and
Nic Roldan. But as Bridgehampton kicked off its 15th
anniversary season, owner Peter Brant is hinting about
a club "face-lift." Promising a new level of sophistication,
this year BPC and Two Trees Farm are adding live
musical performances, fashion boutiques, notable chefs
and specialty bars in addition to the thrill and excitement
of the 20-goal polo series. Patron of the White Birch
Polo Team, Peter Brant is no stranger to what it takes
to be successful in high goal polo, on and off the feld.
Once the highest rated amateur player in the nation,
Peter bought out former partner Neil Hirsch's (patron for
the Blackwatch Polo Team) interest in BPC in an effort
to streamline his vision of elegance and summer polo
in the Hamptons, with its main focus being not on the
celebrities, but rather on the polo and competition itself,
and the appeal the sport alone has to offer.
Sidelines:
What is it that makes polo such a seemingly
integral part of summer in the Hamptons?
PB:
Polo in the Hamptons does so well because its
proximal location to New York City offers an appealing
commercial market for sponsorship. In addition, the
physical attributes of the land: sandy, loamy, fat felds
lend for great polo felds. The temperature in July and
August is ten degrees cooler than in New York City due
to proximity to the ocean.
Sidelines:
What do you feel are the most important
contributing factors to the success of a polo club?
PB:
The success of a polo club comes solely from
the ownership. First, there is the need to demonstrate
stability that the polo club will be there for a long time
which in turn, encourages other potential polo players
to invest in the area. Second, there needs to be great
communication and dialogue with the USPA (United
States Polo Association), as they provide valuable
assistance with any issue at club. Finally, the club
becomes a success when ownership invests into playing
surface and club facilities.
Sidelines:
You've traveled all over the world, where is
your favorite place to play polo, and why?
PB:
Our favorite places to play are in the Northeast
USA. (Greenwich, Connecticut and Bridgehampton,
New York): the facilities and polo felds are fantastic
and beautifully kept, so close to our home base and the
Sidelines:
Who or what has been the most infuential
part of your journey through polo?
PB:
My "journey through polo" is highlighted by my passion
and love for horses: there is nothing that they can be compared
to. Horses are so generous and giving and they love the
game as much as I do. I am also gratifed to have played with
some of the best players in the world and am proud of having
competed at such a high level for so many years. In addition, it
is gratifying to see the many young players who've played with
us go on in their polo careers.
Sidelines:
What do you foresee as the future of high goal polo
PB:
I think that high-goal polo will only get stronger in the
future at Bridgehampton. We will need to have strong support
from all of our Sponsors - their being thoroughly involved and
supporting the sport, however I feel that the new direction we
are taking - that of focusing solely on the game and those who
are playing it, is a step in the right direction
"I am gratifed to have played with some of the best players in the
world and am proud of having competed at such a high level for
so many years," says White Birch patron Peter Brant
Five Questions for Peter Brant