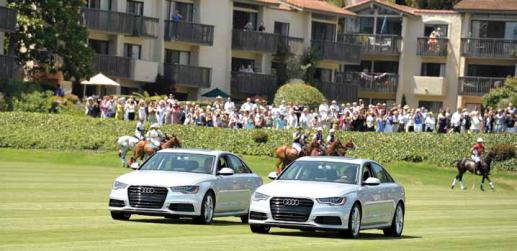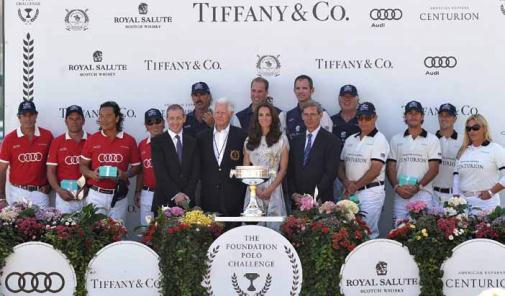 78 SIDELINES SEPTEMBER 2011
FOR HORSE PEOPLE • ABOUT HORSE PEOPLE
California Gets The
"Royal" Treatment
Audi A6 cars lead
opening ceremonies
at Santa Barbara
Polo and Racquet
Club
All photos unless noted by
All three teams who participated
in The Foundation Challenge
By Danika Rice
As Santa Barbara Polo and Racquet Club prepared
to celebrate it's centennial birthday, they knew they'd
have to do something "big" to showcase the history
and elegance long associated with the sunny shores of
California's high goal polo season. Well, big they certainly
did, as HRH Duke of Cambridge graciously accepted
Ambassador Glen Holden Sr.'s invitation to play at the club
in The Foundation Challenge on July 8th, 2011. The event
showcased three teams in a round-robin format, along with
a star-studded reception (actress Jennifer Love Hewitt
and teen rocker Joe Jonas were among attendees) and
a luncheon catered by celebrity chef Giada De Laurentiis.
HRH proved his horsemanship and athleticism as a player,
notching 4 goals in his team's ultimate victory over Audi 5-3.
Prince William played alongside Santiago Trotz, Andy Busch and
Jeep Holden, while Audi boasted previous U.S.
Open winner, Marc Ganzi, along with Wesley Ru, Juan Bollini
and Scott Devon. The game was rounded out by the American
Express Team, featuring Melissa Ganzi, Glen Holden, Pat Nesbitt
and Nicolas Roldan. The Foundation Challenge served as a
"kick-off" to Santa Barbara's high goal summer season, which
welcomes the "polo royalty" of Adolfo Cambiaso, Gonzalito
Pieres, and America's newest 10-goaler, Sapo Caset. Prior to the
Foundation Polo Challenge, the Audi Polo Team kicked off the
weekend with an exclusive private dinner on Friday night at San
Ysidro Ranch hosted by Audi and Marc and Melissa Ganzi.