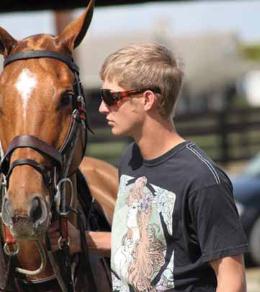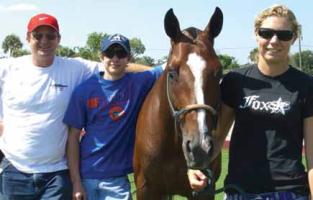 84 SIDELINES SEPTEMBER 2011
FOR HORSE PEOPLE • ABOUT HORSE PEOPLE
Catching Up with Ty MacCarty
By Danika Rice
Much of the legacy of professional polo players seems
to be grounded in a family history within the sport. When
you look from past to present, you see the Gracidas from
Mexico, the Waymans and Barrys from Texas, the Pieres
from Argentina, and the Waltons from California, just to
name a few. It's tradition, carried through generations
of handed down knowledge, horsemanship and passion
for a sport that requires complete commitment not just to
playing, but to the day-to-day activities and lifestyle that
polo infers. Nestled in the scenic views of Wyoming's Big
Horn Mountains, you will fnd the MacCarty family, creating
their own legacy as they begin their 50th year in the polo
industry, not as professional players, but as successful
horse breeders and trainers in Sheridan.
With a solid foundation built in the Wyoming community
of horse breeders and trainers, 19 year old Ty MacCarty
looks forward to continuing in his father's footsteps…..with
perhaps a slight deviation. Focusing with hard work and
determination, Ty has recently been named to the Team
USPA program and is looking toward the "best chance I
can give myself to play professionally." Surrounded by
professionals each summer who play at the Flying H Polo
Club, Ty began playing early alongside polo notables like
Owen Rinehart, Julio Arellano and the Johnston family.
Hoping to further his polo and learning opportunities, Ty
spent his frst winter season in Wellington, Florida in 2009,
under the guidance of 9-goal professional Mike Azzaro
during his 20 goal season with the Lucchese Polo Team.
After a brief stint at Colorado State University, Ty decided
to pursue his dream wholeheartedly, and returned to
Wellington in 2011 to work under 5-goaler Wesley "Whistle"
Uys to again learn more about playing professionally and
managing multiple leagues and strings of horses.
Horsemanship Comes First
With an instinctive reverence for the hard work and talent
it takes to reach such pinnacles in American polo, Ty keeps
a frm grip on the horsemanship aspect of the
game in hopes to advance his abilities as a
professional. "There is nothing like playing a
truly great horse," Ty says. "Polo would be an
entirely different game if everyone had great
horses, but it just doesn't work like that. The
great ones are the ones that take the most
work, that are the hardest to fnd and keep at
the top." With a sly grin he recalls a stallion,
Cochise, as the best horse he's ever played.
"I began playing him as a three year old the
summer I was 14," Ty recalls. "I played him for
three summers straight, and he was always
my best chukker. (Ty had a good eye for a
horse: Cochise was the top priced horse at
$170,000 in the Aiken Polo Pony Sale.) Now
he's owned by 7-goaler Jeff Hall. It's pretty
cool to watch him go from chukkers for me in
Wyoming to playing the U.S. Open."
Ty continues to work at developing his
polo career, and moved from Wellington to
spend the spring season playing with the
Ty helping Whistle Uys in Wellington
Photo by Alexis von Gontard
Winfeld Polo Team in Aiken, South Carolina. He captured one
12 goal tournament win, and was able to advance to the semi-
fnals of two others throughout the season under guidance of the
Hartnett family. Ty will spend the summer returning to his roots,
spending time playing young horses with his family in Wyoming
and under the mentorship of the Team USPA program. He will no
doubt be a face of the future, creating a new MacCarty legacy in
a longstanding tradition of great horseman and horses from the
Ty with dad Brian MacCarty and Cochise (the Aiken Polo Pony sale topper at
$170,000) and Tiana Smicklas