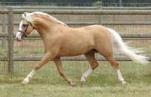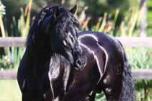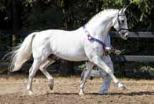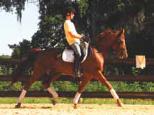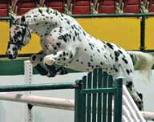 FOR HORSE PEOPLE • ABOUT HORSE PEOPLE 
SIDELINES SEPTEMBER 2011 87
STALLION DIRECTORY
Legacy's Conquistador
Del Sol
Sire/Dam: (Don Juan x Lolita)
16.2 hand Black PRE Andalusian
Conquistador is a true gentleman and has a
great disposition for the lateral and collected
work. Conquistador is currently showing at PSG
Level in Wellington,FL and schooling 4th Level
www.legacyfarmsofjupiter.com
*Wedderlie Mardi Gras
Imported Section B Welsh Pony stallion,
*Wedderlie Mardi Gras - Royal Welsh
Champion/2 time US National Champion. Sire
of National and Regional champions in halter
and performance. Standing at 13h he is an ideal
cross on sport horse or TB mares to create large
ponies. Passing on his gorgeous
movement, conformation and kind temperament.
Approved Weser-Ems. Available to all breeds.
See more at www.welshponies.com or call
Tempranillo
2000 17 hh imported KWPN by Calvados Keur
Out of Ilobria Keur Pref (Damiro x Transvaal)
Approved CWB Bronze Premium CSH
Competed 3rd level dressage 1.20m jumpers
Sires elegant, athletic offspring who move with a
lot of suspension and jump in phenomenal form
Standing at Klondike Victory Farm Alberta
See our whole line-up of 5 imported stallions at
www.kvf.ca 403-748-3070 stud fee $1,250 cad
Photographer Mary Cornelius
IDEAL
Inschallah/Zeus/Furioso II 16.2
1985 Approved Imported Oldenburg
The most successful producer of Premium Foals
in the entire ISR/Oldenburg history. Sire of
Dressage Eventing and Jumper Champions
For amateurs and professionals producing
consistent quality for 20 years
Stud Fee $1,100 LFG carol@ultimatepiaffe.com
www.ultimatepiaffe.com 503-638-7716 ph
Photo Kim Houghton
FLEXIBLE
Cruising/Flex/Safari 16 H
1996 Imported ISH Stallion
Pictured at 2010 Rolex FEI World Cup Final
Highest ranked Irish Sport Horse on the
World Ranking list for Show Jumpers
Breed to one of the few U.S. based Stallions
currently competing both Nationally and
Internationally. Stud Fee: $2,500
www.FlexibleGrandPrixJumper.com 503-638-7716
carol@FlexibleGrandPrixJumper.com
Flamenco 9050
Flyinge Flamingo 481 x Lankella by Lansiar
1991, Chestnut, 16.1h, Approved
Swedish Warmblood Stallion.
FEI Dressage with scores in the 70s thru GP
Standing at Stud in Wellington
Fresh $1,500 Frozen $1,200
Contact Leif 561-762-9020
For more info and to see video, visit
www.freespiritfriesians.com
DACAPRIO
(Davignon I/Caprimond/Laterit)
Elite Hanoverian Stallion, 16.2h
Internationally known as a sire of the
highest quality sporthorses. 
Also standing successful Elite Stallions 
Fabuleux (Fabriano/Augustinus xx) and
Liberty (Lauries Crusador xx/Gimpel)
Bridlewood Farm - 859-485-6000  
www.bridlewoodhanoverians.com
ATLANTIS AF ASGARD
2001 Black Leopard Knabstruper Stallion
Imported from Germany (KNN, RPSI, ZfDP)
Rare specimen of both Baroque & Sport types
Equally impressive in Dressage & Jumpers!
Foals are correct & colorful w/ incredible minds
Contact: Bec Knabstrupper Stud
804.815.4484 ~ KnabStud@aol.com
www.SpottedSportHorses.com
NORTH FORKS CARDI
Welsh Cob FEI & CDI Ch. Sport Pony, 14.3
1/2 hh Championships Training - Intermediaire
1, scores to 73%. At Devon he won Born
in the USA Stallion Ch., East Coast Series
Final Breeder's Ch. Stallion,  and RPSI Ch.
Stallion. Cardi is an ideal cross to produce
kind, trainable sportponies and sport-horses
with extreme suspended gaits. Approved
Weser Ems, RPSI, & NASPR. winterlakewelsh.
com & eqequestrian.com for video & foals.