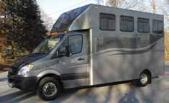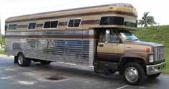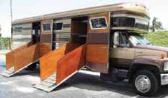 112 SIDELINES DECEMBER 2011
FOR HORSE PEOPLE • ABOUT HORSE PEOPLE
VACATION
RIDE IRISH – FROM TRAIL RIDING-
Connemara to cross-country jumping on a two-
star event course to hunting with the Galway
Blazers, enjoy the ride of a lifetime with the
legendary Willie Leahy Packages tailored to
the individual. www.irishridingadventures.com
VANS & TRAILERS
FARMINGTON GREEN HORSE
TRANSPORTATION
- (561) 791-9686; Cell No.
(954) 448-1044 D. O. T. Authorized and Fully
Insured Air Ride Equipped, Local and Long
WELLINGTON, FL.:
1/2 Bath Townhouse w/Garage & Pool. Nicely
furnished. Includes Electric, Water, Cablevision,
Phone and Internet. 2 miles from Show
Grounds. 3 month minimum. Available 12/1 –
5/1 Non Smokers Please. $3,300.00 per month.
vecanuso@aol.com or 631-653-8180
SUGAR POND MANOR HOME: 3
garage, Screened patio and pool. 10 minutes
from Horse Show and in great school district.
Available seasonally or year round.
SEASONAL ROOM FOR RENT:
home. House privileges. 4 miles to Polo &
Call for rate 561-333-4285 OCT16
FURNISHED 3 BR, 2 BA, 2 CAR GARAGE
– I
ncluding utilities,10 minutes to Polo and
Equestrian Center $3,000. per month,
SEEKING EMPLOYMENT
EXP. PROPERTY MGR. AVAILABLE FOR
HIRE –
Several years working for top equestrian
estates in Wellington, as well as lg. properties of
1,000 acres in NY and South FL. Competent in
all types of equip., IE tractors, mowers, loaders
and their maintenance. Also, barn landscaping,
grass felds (polo, jumping), and arena
maintenance. Exp. in overseeing building,
contractors and employees. CDL license, safe
driver and very reliable. Resume and references
avail. upon request. Please call Ricky
561-267-3598 or email: hrhoover@att.ne SE18
TRAINERS
SUZANNE LA PORTE – DRESSAGE
and Boarding, Year round in Loxahatchee, FL.
561-909-8163 or 561-644-7543 JA08
TRANSPORTATION
SHIPWITHCONFIDENCE- CUSTOMAIR-RIDE
VANS –
ICC, AND DOT licensed. Transportation
Dependable coast-to-coast service since 1959!
NATION-WIDE HORSE TRANSPORTATION,
INC. Colorado Springs, CO 80931
719-392-1888, Fax: 719-392-1891
www.nwht.net 1-800-451-7696 SE16
W.J. BARRY HORSE TRANSPORTATION
Serving the East Coast since 1957. Licensed
and Insured. Member National Horse
Carrier's Association. (CT) 203-792-2288, or
FRANK DIBELLA DELUXE HORSE VANS –
New / used horse vans and trailers 2-15 horse.
4 Star, Hawk & Kingston Dealer. (PA) 610-495-
2270 www.frankdibella.com JUL10
SIDELINES' CLASSIFIEDS
STREAMLINER DELUXE 8 HORSE –
54K mi. kept in barn, absolutely beautiful.
DRASTIC PRICE REDUCTION……..Now
only $36,500.00.
Possible fnancing, for more
alex@newrivermarina.net 954-816-5993
TO PLACE A CLASSIFIED AD:
The cost is $40 for the first 15 words and $1 for each
additional word per issue. $20.00 for each photo.
Name, address, phone number, how many issues
to run ad and payment (check or credit card number
& expiration date) must be included with typed or
handwritten ad. Mail to Sidelines, Inc., 11924 For-
est Hill Blvd., Suite 22 #376, Wellington, FL 33414,
Email to classifieds@sidelinesnews.com Credit card
number, full name and signature must accompany
any ad taken by mail or phone 561-798-4828. ALL
ADS ARE PRE-PAID. Advertising deadline is 12:00
pm Wednesday, 17 days before publication. Not re-
sponsible for mistakes due to illegible handwriting.
Phone 561-798-4828. No real estate photos.