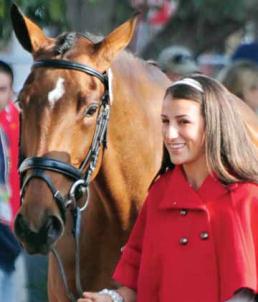 12 SIDELINES DECEMBER 2011
FOR HORSE PEOPLE • ABOUT HORSE PEOPLE
Five Questions for Lauren Billys
By Lauren R. Giannini
Californian Lauren Billys, 22, leaped at the opportunity
to represent Puerto Rico in three-day eventing at the Pan
American Games in Guadalajara, Mexico in October. Since
she began riding at eight, she dreamed of equestrian glory.
In the past two years, armed with a deferral from college, this
dream hit new heights as she concentrated all her energy
on preparing herself and her horse, Ballingowan Ginger for
the Pan Ams. By her own admission in her Chronicle of
the Horse blog, the spirit of the Games was overwhelming.
She landed in Mexico with her horse, without a groom,
without any teammates or ground support. Within minutes
she found herself adopted by other Central and South
American countries, befriended by their vets, grooms and
riders. The Pan Ams got even better for Lauren with the
arrival of her parents, her grandmother Maria Latoni, and
her trainers, Derek and Bea di Grazia
They stood 7th after
dressage, but an unfortunate fall at fence 21 on the cross-
country resulted in their elimination. Rider is fne, horse
scraped a knee, but doing fne.
Sidelines:
Do you feel you were ready for international
LB:
Yes, and I don't feel I'm taking advantage of having
dual citizenship. This is the frst time Puerto Rico has sent
a team or a rider to the Pan Am Games for eventing. They
gave me the opportunity to do this and I'm honored and
intend to do my best. There's no question that I feel ready.
I feel like I deserve this opportunity. There are some things
in life that just come to you, and I very much feel that the
events of the last two years have happened to bring me
to this point. I've never second guessed why I'm here [in
Guadalajara]. I started eventing when I was nine. When
I was 13, at school they asked where do you want to be in
10 years. I had written Olympic rings all over my profle for
middle school. Being here in Guadalajara has been such
an eye opener. Everyone is either going to the Olympics,
been to the Olympics or planning to go to the Olympics. It's
such a reality here. It made me realize that with hard work
and drive, the right horse, and amazing people around you,
anything can happen – it is so possible to do this.
Sidelines:
You put your dual major, chemistry and enology,
on hold to prepare for the Pan Am Games. Are you going
LB:
I would not be allowed to ride if I wasn't in school. I
asked for the time off to take advantage of this incredible
opportunity to ride for Puerto Rico and I have every intention
of going back to school. There's no question of that. I don't
really know what the future holds. Ideally, I'd love to ride,
but I love wine making and if I want to go into that feld and
horses don't work out, I'm looking at going to grad school
and study Applied Chemistry for Wine making.
Sidelines:
Derek di Grazia is a challenging cross-country
designer: how does he prepare you at home?
LB:
We don't have a cross-country feld at home. We
practice in an arena and go out to Woodside to practice,
too, but it's a good question. When I started training with
Bea and Derek, we did gymnastics in the arena. They seem
easy, but when you ride them, they catch you by surprise and
really technically challenge you in your focus and your precision.
The practices at home are very bit as challenging as Derek's
courses and have absolutely prepared me for all the courses I
have faced with my horse.
Sidelines:
What is Ballingowan Ginger like?
LB:
She's very different from my frst horse, Ranger, who we
bought through the Thrifty Nickel. Molly Rosin found Ginger for
me in 2007. Ginger and I spent our frst few months together
training with Mike Huber. In 2008, I went to Molly's to be a working
student. Ginger and I competed at training level, and I galloped
racehorses and worked for a cowboy, too. I've really pushed
myself, but everything started coming together when I returned
to California and started training with Derek and Bea. I joined
the Puerto Rican eventing team in 2010. This year Ginger and I
fnished third in our frst CIC** and CCI**. Ginger
wants
do well, especially in dressage and show jumping. Once we got
here, it was like she knew that this is what we've been training for.
Sidelines:
What have been your most important lessons?
LB:
Ranger, my frst horse, taught me that riding isn't about the
fnal destination, it's about the journey, it's about the people and
the lessons and everything in between, that it's fun. He taught me
to be tough as a competitor and keep your head high even when
things have gone wrong. He also taught me never to take anything
Ballingowan Ginger and Lauren Billys, the lone eventing
representative of Puerto Rico at the frst veterinary inspection of
the Guadalajara Pan American Games