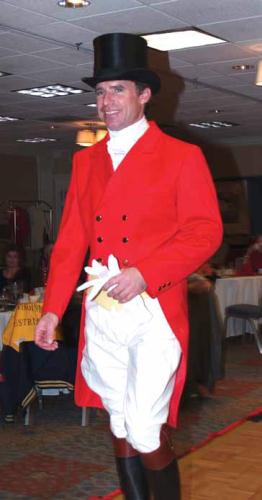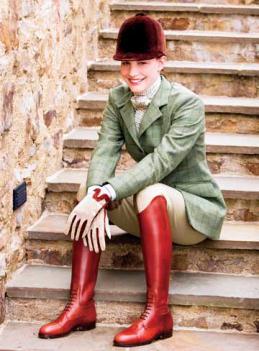 14 SIDELINES DECEMBER 2011
FOR HORSE PEOPLE • ABOUT HORSE PEOPLE
Horse Country Saddlery, founded by the Maggiolo family
in 1970, evolved from a small tack shop in Warrenton, VA,
into a leading US stockist of fne show ring and foxhunting
attire. Marion Maggiolo, Horse Country's president, served
many years as chair and now, with Joyce Fendley MFH, co-
chairs the advisory committee of the Museum of Hounds
and Hunting North America, which opened in May 1985
at Morven Park (Leesburg, VA). Marion contributes her
retailer's eye and experience to this unique collection of fne
art, books, hunting attire, horns, hunt buttons and General
George Patton's hunting diaries, raising awareness about
the importance of our rural roots and the culture of horses,
hounds and hunting.
Sidelines:
What have you noticed about design changes
because of stretchy fabrics used in breeches, shirts and
MM:
The use of technical fabrics in shirts and breeches
has been evolving since the 70s. Highly tailored breeches,
while still available, gave way to a simplifed pattern that,
with stretch, could ft most riders in different venues and
affordable price points. The greatest change has been in
schooling clothes — we see cloth, color, trim and synthetic
suede all on the design table. The fashion world dictated
Five Questions for Horse Country's
Marion Maggiolo
the hip hugger in the millennium and now we have comfortable
low-rise breeches thanks to stretch. We have cooler breeches for
summer, warmer breeches for cold weather and breathable riding
attire for inclement weather…all washable. Shirts in Coolmax and
other breathable fabric have taken hold. Event shirts, polo shirts,
and even support riding socks are touting wicking properties and
stretch. Jackets in stretch tend to be a solid color.
Sidelines:
What do the newer 'non-fared' breeches offer for
MM:
Whether you have a small waist or no waist, fat derrière or
Cutaway and top hat: timeless style
All photos courtesy of CDCTA by Janine Resau
Ratcatcher is always a handsome turnout
Continued on page 16