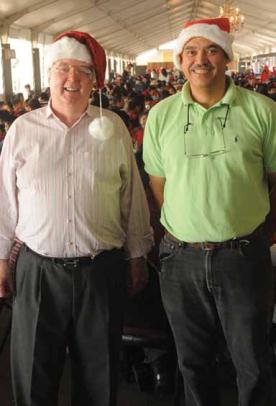 20 SIDELINES DECEMBER 2011
FOR HORSE PEOPLE • ABOUT HORSE PEOPLE
Christmas Gift Giving Is a
Tradition with BJ and Pablo
for working poor families
the official name of the loose-knit organization.
Lately, the Christmas party has been held at the
Wellington Horse Show grounds in a huge tent that
accommodates 600 kids and hundreds of volunteers.
It's not "Oprah" or "Ellen," but every kid who attends
the Caridad Center Christmas Party goes away with
gifts and their parents get food vouchers thanks to the
efforts of the two Wellington residents.
Scarlet Fave, Caridad Social Services Coordinator,
noted Wellington equestrian Nancy Hooker and Moran
collect gift wishes from the parents of hundreds
of Caridad children. Assisted by amateur division
equestrian Bruce Duchossois, Moran and hundreds of
volunteers purchase toys on the list and more, and
party is well chronicled.
the party. Donations also
money was a burden, but I soon found that people want to
help if they know what the need is and how they can help.
The fact that the money raised goes directly to benefit the
kids, makes it all worthwhile. Our joy comes from knowing
we are underwriting a world-class organization so that kids
can be healthy, get a good education and have an opportunity
for a life beyond working in the fields."
This year Caridad Center will present the Wellington
Equestrian Group and BJ and Pablo with the Constance Ber-
ry Award at the 11th Annual Caridad Center Gala, December
For more Information go to www.caridad.org/index.php?sr
c=events&srctype=detail&refno=50&category=Event. Or call
Anna Marie King at (561) 737-6336 Ext. 100.
BJ Meeks and Pablo Perez at the 2010 Caridad Center Christmas
party at the Wellington Horse Show Grounds