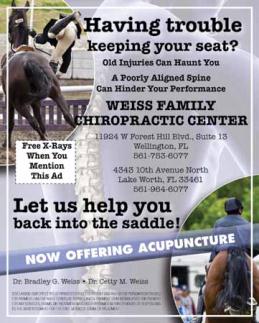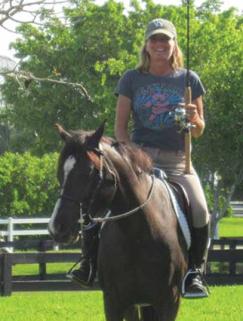 32 SIDELINES DECEMBER 2011 
FOR HORSE PEOPLE • ABOUT HORSE PEOPLE
Congratulations to this wonderful couple.
Kathy Mailloux
tells us she's a big fan of the nice new vet in
Dr. Amanda Miller
was a JR/Amateur and grand
prix show jumper with her horse, Xanadu, under the tutelage of
Joe Fargis, Kim Wickenden and George Morris
is mostly small animals, although she also does horses. (Big
surprise, with her background!)
Bobby Murphy
sets his sights on educating school children
about the world of horses – stand back. He played a big role in
the "Hats Off" Day recently at the Kentucky Horse Park and he
managed to get over 2000 kids out to the "Horse Play" educational
part of the National Horse Show. Well done Bobby.
USET Foundation Fundraiser
Continued from page 30
Continued on page 34
Jackie Cahill goes fshing on Melissa Burns' pony Seafarer.
You can take a horseperson outta the barn, but not for long!
$
1
$
2
$
3
O
FF
S
HIPPING
O
FF
S
HIPPING
O
FF
S
HIPPING
Limit 1 coupon per customer. Not valid with
other o ers. Restrictions apply. Valid and
redeemable only when presented at a
participating location. The UPS Store centers
are independently owned and operated.
O er expires 12/31/2011
Wellington Town Square
(O South Shore, near Publix)
11924 W Forest Hill Blvd, Ste 22
P: 561.791.9020 • F: 561.791.3889
Store 2128@theupsstore.com
Copyright ©2011 Mail Boxes Etc., Inc. 41032100911
Hours
Mon - Fri
Sat
Sun
BEAT THE HOLIDAY SHIPPING RUSH.
Pack & ship your gifts early.
With our Certi‰ed Packing Experts, variety
of shipping options and UPS® package
tracking, we can help you check packing
and shipping your gifts o your list.
Stop by the UPS Store® and we'll ship your gifts today.
Slightly belated
congratulations to
Marty Bauman, the
energy behind Classic
Communications: for
his appointment in
early September as
the Director of Media
Services for the 2011
Alltech National
Horse Show