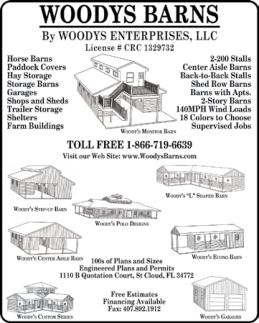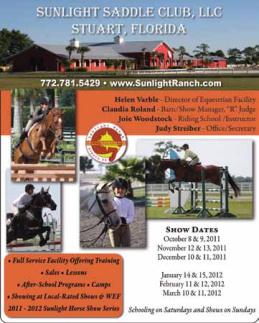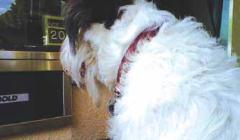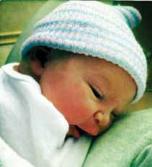 34 SIDELINES DECEMBER 2011 
FOR HORSE PEOPLE • ABOUT HORSE PEOPLE
International Polo Club
to the special events tent at the
Winter Equestrian Festival
event will be catered by Ken Rose Catering and the honorary
Matt and Annette Lauer.
evening and rumor has it, this event is almost sold out and the
invitations haven't even gone out yet.
Congratulations are in order for
Michael Morrissey and Lordis
DeGuardiola.
They recently announced their engagement.
Yolanda Knowlton
, the newest joint master
Goldens Bridge Hounds
Horse Show News: U.S. Equestrian Federation
determined the date and location for the USEF selection trials for
Continued from page 32
the U.S. show jumping team for the 2012 Olympic Games. The
competition will be hosted by Equestrian Sport Productions at the
Palm Beach International Equestrian Center in Wellington, FL
East and West Coast Junior Hunter Finals
the rumor on the street and there will be only one fnal during the
Pennsylvania Horse Show at Harrisburg. Wow – just where does
this ft into a very full schedule.
Check out Asides for info on the Manure Management Summit,
held in Ocala December 13. Everyone with a horse farm in Florida
needs to know about this -- and the free BMP manual.
Congratulations to
Virginia Fout and
Michael Whetstone
whose daughter
Logan Wiley
Whetstone (7 lbs 10
oz) was born at 8:11
am on October 17.
Virginia grew up
in the very horsey
and conservation-
minded Fout family
in the Middleburg
area, but moved to
Los Angeles where
she competes
in Amateur-Owner Hunters and founded V Productions,
masterminding global event planning.
Photo Courtesy of the proud parents
After spending the day bolting fox (OK, cats, lizards and
squirrels) Devon is eagerly awaiting a biscuit to magically
appear from the bank drawer.