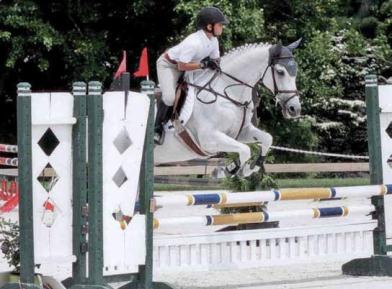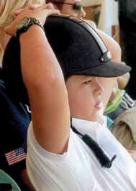 44 SIDELINES DECEMBER 2011
FOR HORSE PEOPLE • ABOUT HORSE PEOPLE
By Jan Westmark-Allan
Nine year old Timmy Dutta
has spent his life traveling
to the biggest shows in the
world with his mom Susie
Dutta, an
international
dressage rider, and his dad
Tim Dutta, the owner of The
Dutta International Horse
Transportation Corporation.
Timmy, who will enter the
fourth grade at Binks Forest
Elementary inWellington this
fall, has lived in Germany
and loves to travel.
Thanks to growing up
in the horse world, it's not
surprising that Timmy has
lofty ambitions when it
comes to showing and he
is already competing in the
Children's Jumper division.
"I was fourth in the Children/
Adult Classic at Ox Ridge
Hunt Club this summer. I
was the highest placed child
and I won $150 and that was
really fun!" Timmy said, adding that show jumping legend
McLain Ward is his equestrian idol and inspiration.
While Timmy says his mom would love for him to ride
dressage, his heart is in the jumper ring. "I love the jumpers.
I am learning some dressage just to make me a better
jumping rider. Sometimes for fun, I do tempi changes on
my pony," he said.
Sidelines:
How did you start riding?
TD:
I started riding because of my godfather, Guido Klatte.
He is my father's partner in the shipping business. I was
living in Germany with my mom while she trained with
Rudolf Zileinger and Guido surprised me with a Shetland
Pony named Bondie. He came with a saddle, bridle and
his own portable stall. I had so much fun with Bondie! I
learned how to ride and fall off. I think I fell off almost every
day, and then my mom offered me fve Euros a day to not
fall off so I learned how to stay on. I needed to make some
money! When it was time for us to come home, Bondie
had to go back to the pony farm he was on loan from. It
Sidelines:
DT:
Guido bought me another very cool jumping pony.
He surprised me with him for Christmas and his name is
Artus. Guido and his family taught me to ride him and Artus
few back to Florida with me.  I ride in the Low Children's
Jumpers. Artus is older but very experienced. I trust him
Sidelines:
DT:
I train with Erica McKeever at Castle Hill Farm. I feel
very lucky to ride at Castle Hill with Erica. She does a
A Few Minutes with Timmy Dutta
great job with making sure both Artus and I are ready for shows.
Whatever Erica tells me is always simple and clear to me. That
way it's easy to remember when I need it. I love Erica!
Sidelines:
What do you like about all the traveling you have done
DT:
I have traveled a lot for a kid my age. When I lived in Germany
we traveled to many countries for horse shows. I loved trying the
food and the candy of all the different countries. I liked to see the
different traditions they have, especially around the holidays. I try
to bring something home from all the different places I have been
to so that I will remember the places.
Sidelines:
What do you like to do besides ride?
DT:
My hobbies are golf, paintball, fshing and shooting. If I didn't
Sidelines:
DT:
I am going to Saugerties next and then Germany with my
mom at the end of September. I am excited because I get to take
Artus. He and I will keep training in Germany to get ready for the
2012 Winter Equestrian Festival.
Timmy waits on the side of
the ring
Timmy and Artus
competing at the Ox
Ridge Hunt Club
Timmy's
Favorite things:
Color:
Food:
Candy:
TV Show:
Horse:
Movie:
Number:
Place to visit: