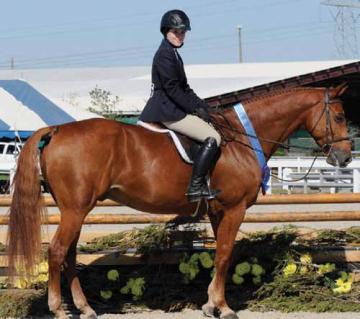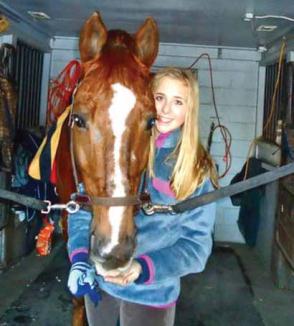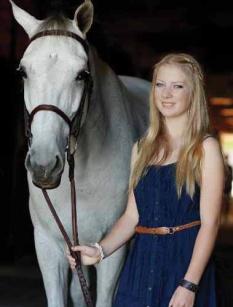 48 SIDELINES DECEMBER 2011
FOR HORSE PEOPLE • ABOUT HORSE PEOPLE
Continued on page 50
Nicole Nowak, 15, of East Greenwich, Rhode Island, is showing
at the FEI Junior Level with a Dressage 4 Kids horse named
Gismo. Nicole trains with Pamela Maloof at Faith Hill Farm and
competed at NEDA in the Fourth Level Test 2 and Third Level
Test 3, earning frst in the junior division and third overall in both
classes. Great job Nicole!
Kelsie Brittan, 15, of Denver, Colorado,
rode her Large Junior Hunter Argentum
to the blue ribbon in the 15 & Under
Junior Hunter Stake at The Capital
Challenge Horse Show. Kelsie, who
represents the non-proft charity for
children, Step by Step Foundation, when
she competes, trains with Peter Pletcher.
Thanks for supporting a great cause,
Kelsie!
Junior rider Lene Bruheim competed
Elisabeth Bruheim's Pristine Park at the
GSEC Fall Classic, winning the Children's
Hunter Classic and the Children's
Equitation Over Fences for Nordic Lights
Farm. Lene and Pristine Park earned the
highest score of the day and received the
top call in the Children¹s Equitation Over
Fences for their impressive partnership.
Congratulations to a great team!
Photo courtesy of Nordic Lights Farm
Junior Blues
Junior riders are rocking the results at shows everywhere
– and Sidelines wants to congratulate all of them and share
their good news! If you know a junior who deserves to
be recognized, send in a paragraph detailing their award
winning news, with a photo, to editor@sidelinesnews.com.