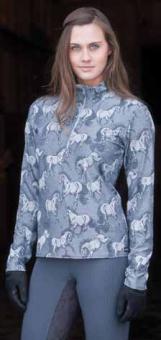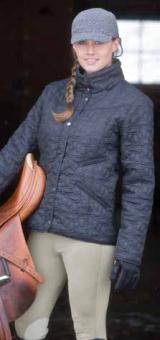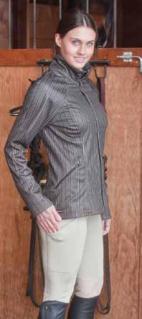 64 SIDELINES DECEMBER 2011
FOR HORSE PEOPLE • ABOUT HORSE PEOPLE
Kerrits Unbridled Half Zip
Unbridle your horsey
personality! This versatile half-
zip top incorporates Kerrits'
commitment to comfort and
style with a whimsical horse
print jacquard. Designed with
a relaxed silhouette to loosely
hug your body for wicking
performance that stretches and
moves with you like a second
skin. The 10" zip t-neck offers
ventilation options to suit your
riding climate. Available in adult
and kids sizes. MSRP: $64.00
At Kerrits, equestrian
performance apparel is often
called on to perform double
duty, working hard in the barn
while still looking great for
everyday life activities. The
solution this winter is the Shoe-
In Quilted Jacket. Windproof,
water resistant, and warm; with
a feminine silhouette styled
in a subtle horseshoe-quilted
pattern—it's one jacket that's as
appropriate for city strolls as it is
for barn chore duty. MSRP $199
Powerstretch Pocket Tight:
Out in the wickedly wet and
chilly Pacifc Northwest, they
know a thing or two about
pre-dawn motivation. That's
why Kerrits engineered a pant
that's as much about in-the-
saddle performance as it is
about get-in-the-saddle comfort.
The all new Power Stretch®
Pocket Tight combines the ski
industry's comfest feece-lined
stretch fabric with Kerrits' most
requested cargo-pocket design.
The result is a performance
riding pant that will keep you
snug in winter's chilliest riding
conditions. MSRP $99
Kerrits Performance
Equestrian Apparel
Home-grown performance that sprouted
in 1986, Kerrits Performance Equestrian
Apparel thrives on creating innovative,
functional and stylish performance
apparel, uniquely designed for women
and children who ride and love horses.
Connect with Kerrits and their network
of authorized dealers at www.kerrits.com
to see the fresh picks of the season!