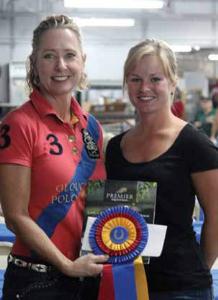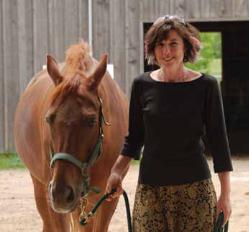 72 SIDELINES DECEMBER 2011
FOR HORSE PEOPLE • ABOUT HORSE PEOPLE
Catching up:
We love superstars, and you don't get
Totilas
, soooo if you haven't seen
him, now's your chance! We are told that this spectacular
animal will make a onetime US appearance competing
The World Dressage Masters
Jim Brandon
Center.
The show will be produced by
Wellington Classic
Dressage
and the presenting sponsor is
International
Polo Club
. Mark your calendar for Jan. 26 – 29 and don't
We were delighted to learn
that The United States
Dressage Federation
Lendon Gray
Roemer Foundation/USDF Hall of Fame
Gala and Annual Awards Banquet, on December 2, during
the Adequan/USDF Annual Convention in San Diego,
California. Lendon has long been one of our heroes, and
the work she has done over the years has truly benefted
the sport. A round of standing applause for you, Lendon!
Eurospy
Will Faudree
Oliver Townend
allegedly tried to sell him one
for £400 k at Blenheim Palace where he was ninth in the
CCI*** with Pawlow. However he also tried 'On Q For Gold,
Janet Oliver's
horse. He is trying two others and then
some in Ireland. Will keep ears and eyes peeled! And then
let you know! Oooooh, and Oliver has recently bought one
Lindsay Middleton
Simon
Middleton
of Zebra Products). Have to keep an eye out!
Continued on page 74
Scandalous! Eurospy spent the weekend with
Lee Pearson
(nine times Paralympic Dressage Gold Medalist) and told her he
The National Dressage Championships
the trainer of 'Silhouette' the four year old owned by The Lady
Joseph Charitable Trust (an organization set up to buy horses for
Henrietta Cheetham
estate). He was also there to meet with the trainer from The
Spanish Riding School as they are doing demonstrations at
Wembley at the end of the year. This show is a highlight of
the annual calendar. Lee was to meet the trainer in the British
Dressage VIP Pavilion. As the winning most Dressage Rider ever,
the holder of 27 Gold medals (one silver but he doesn't dwell on
that one) he was embarrassed and humiliated to be denied entry.
Carl Hester
won Team Gold and individual Silver at the Europeans. After a
discussion both were allowed in, but this did not refect well British
On the second day Lee had another meeting, this time with
Henrietta Cheetham herself. He was again denied entry. (Bearing
in mind that The Lady Joseph Trust has invested in BD Para Riders
largely thanks to the success of Lee and his team mates this
would appear to be extremely misguided). It was raining hard and
Lee was stuck outside on his own, in full view of spectators at the
base of the grandstand with people pointing at his predicament,
feeling rather intimidated.
Later that same day, Lee was asked by British National
Dressage Radio for an interview. He refused, but only after
Devon Kane of Diamante Farms arrived at the Great
American/ USDF Region 3 Dressage Championships in Ocala
with high hopes for her three competing horses. She soon
discovered, however, that due to a glitch in the computer
system, her entries had been misfled and no stalls had been
assigned for her horses. While this may have been the end
of the road for most, Kane kept a positive attitude and once
the issues were resolved, went on to win quite a few ribbons.
This positive attitude and outlook earned Kane the Premier
Equestrian Sportsmanship Award and a gift certifcate for a
Charles Owen helmet
Lee Pearson CBE (GBE), triple gold medalist, team
and individual, ParaDressage 2010 Alltech World
Equestrian Games, was denied entry to British
Dressage VIP tent at recent National Dressage
Championships. If he isn't a BD VIP, we don't know
what is! See story in this column.
Photo by Lauren R Giannini