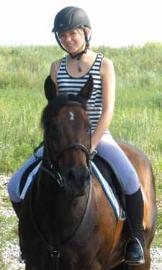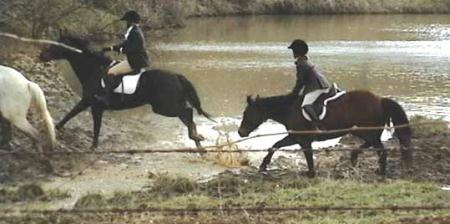 94 SIDELINES DECEMBER 2011
FOR HORSE PEOPLE • ABOUT HORSE PEOPLE
By Jan Westmark-Allan
Gina, a 14.2 hand Morgan/Quarter Horse cross, started
her life as a research subject at a state university before
ending up at an auction. Luckily, the unwanted pony was
rescued by Misti West, an experienced horsewoman who
bid against a kill buyer.
Misti's daughter, Morgan Spatz, is now the proud rider
of the 12 year old pony and together the two have tackled
Pony Club, foxhunting and hunter shows. "We went to
Kentucky for the Pony Club Festival this summer and it
was really amazing," Morgan said, adding that she and
Gina are the same age and that she started riding her
when she was eight. "We really learned a lot in Kentucky."
Morgan and Gina have bonded over the years and
Morgan said she has learned a great deal about the value
of rescuing a horse. "I think that it's sad that all of those
horses going to slaughterhouses could have just as much
potential as Gina," Morgan said. "Gina takes care of me
when we are foxhunting or out on trails. There have been
many times when Gina has had better judgment than I
have and she always makes good choices."
Morgan and her mom both agree that Gina has been a
great addition to their equine family. "We just moved from
Oklahoma to Western Pennsylvania and we are building a
farm called Honey Tree Hill," Morgan said. "Gina is happy
because she gets to be the boss of the other horses."
Morgan said she wants to encourage other riders
to rescue horses. "My mom also has three off the track
Thoroughbreds that she rides and trains. If you spend the
time and don't lose your patience you can end up with a
really good horse, just like Gina," she said. "There are so
many great things I like about Gina. I like that she doesn't
buck and she always takes care of me. I like it that when
my friends come over I can count on Gina to let them ride
her and she will be good. I like that whenever I open the
door, or drive up the driveway, Gina always whinnies at me.
I think she wants dinner, but it still makes me feel good."
While still living in Oklahoma, Morgan and Gina were
nervous when she is in a stall."
Morgan's personal goals include having more control over
fences and going to Ireland or New Zealand in the Fox Hunting
Exchange. In the meantime she said she will enjoy every minute
she has with Gina. "I love to brush her, ride her and just spend
time with her, but the best thing is knowing that she wasn't turned
into dog food and eaten. I
also think Gina knows she
is in a better place and I
think she trusts us enough
to know that she will never
Morgan and her
rescue pony Gina
Morgan and Gina
get ready to cross
the stream behind
Morgan's mom, Misti
West
Rescued Research Pony
Enjoys Life In Pony Club
Morgan and Gina
prepare to compete