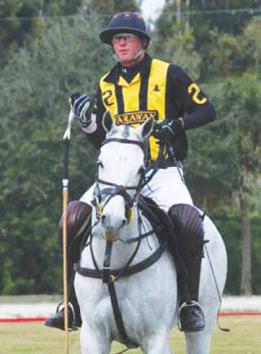 98 SIDELINES APRIL 2012
FOR HORSE PEOPLE • ABOUT HORSE PEOPLE
By Danika Rice
The name "Gracida" is a revered and notable distinction
within the sport of polo, with a long and illustrious history of
international competitors and horsemen that have founded,
invented and re-invented the game of polo since a 1946
US Open victory that remains the only recorded win by four
brothers in the history of the sport. The four Mexico City
born Gracidas left an indelible mark and one which would
continue to grow with multiple international tournament
wins, 10 goal handicaps and a boastful resume of history
making records that remain standing, even today. While
Guillermo "Memo" Gracida, Jr. may stand as the most
famous in this family legacy, boasting 21 consecutive years
at a 10 goal rating and a 1997 induction into the Polo Hall
of Fame, in 2012 it is Memo's son, Julio, who is capturing
notable victories and adding further testament to the family
dynasty as a continual force in the sport of polo.
It's a Family Tradition
Intensely aware of expectation and performance, Julio
says, "the legacy made my career choice easy. Really,
it was the easiest decision I've ever made [to become a
professional polo player]. Polo is a unique sport because
not just for us, but for a lot of people, it is family oriented.
It's the only sport where I can play with my dad, uncle and
cousins, all at the same time. That, for me, is the best." At
25 years old, Julio already has a resume to be proud of,
with notable wins alongside family ties, including the 2002
22-goal Iglehart Cup and the 2005 US Open. The Iglehart
Cup was won alongside his father and his US Open victory
in 2005 added the third consecutive Gracida victory in the
tournament, with Uncle Carlos winning in 2003 and father
Memo winning in 2004. "I don't think I can 'live up' to
our family legacy. It's impossible to try and replicate the
accomplishments of my dad and uncle. But what I want is
just to make a name for myself and have my own legacy
A Star In His Own Right
2011 granted an opportunity for Julio to shine as a
professional in his own right, playing alongside Adolfo
Cambiaso and Jeff Blake on John Muse's Lucchese team
during Santa Barbara's high goal summer season. Playing
alongside arguably the world's best, Julio and teammates
took home the Pacifc Coast Open trophy and secured the
Gracida name on yet another major U.S. polo trophy. That
victory is counted among the favorites in Julio's career, as
he recalls, "it was the last tournament I had to win to have
won all the major tournaments in the US. It's an amazing
feeling to know that I've been lucky enough to play with
some incredible people and win every major tournament
in the United States." Indeed, his list of mentors and
teammates looks more like a "who's who" roster of polo
superstars, including not only his Hall of Fame father
and uncle, but also Adolfo Cambiaso, Mariano Aguirre,
Pablo McDonough, Lucas Criado, Gonzalito Pieres and
American polo icon, Mike Azzaro, along with polo patron
George Rawlings, who gave Julio his frst chance at playing
professionally. "I want to keep getting better every year," Julio
says. "I want a chance to always compete for the U.S. Open title
and I want a chance to add my own records to history."
Working Toward the Future
Returning to his hometown of Wellington, Florida for the winter,
Julio started off 2012 with an impressive showing in the 20 goal
series at the International Polo Club Palm Beach with the Valiente/
Tonkawa team. With a record-breaking 17 teams entered in the
series this year, the level of polo and horses has each professional
striving to "step-up" their game and has pushed Julio to work
diligently alongside professionals Nacho Novillo-Astrada (9 goals)
and Toto Collardin (7 goals). Crediting success to encompass the
equine athletes beneath him, Julio says, "I have to say, my little
grey Pimpinella has helped me from the very beginning of my polo
career. She was my favorite for a lot of reasons: she was the frst
I bought on my own; but she also helped me get from 0 goals to a
5 goal rating." Grounded in an ancestry of horsemanship, he says
that the horses are never far from his mind and an invaluable part
of every game he plays. Although he will not get a chance this
year to compete for the coveted U.S. Open title, Julio will fnish
the winter season in Florida before heading to Houston, Texas for
the spring and then California again in the summer. "If you listen
to some people," he says with a grin, "the world is going to end in
2012. So I guess I'm just looking to see how many wins I can add
to my record until then."
Julio Gracida:
Living His Legacy
"I want to keep getting better every year," Julio says. "I want a
chance to always compete for the U.S. Open title and I want a
chance to add my own records to history"
Photos courtesy of Gillian Johnston