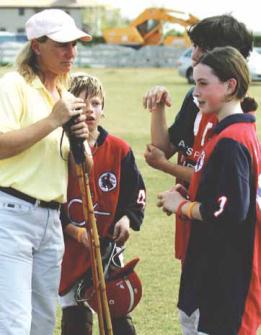 100 SIDELINES APRIL 2012
FOR HORSE PEOPLE • ABOUT HORSE PEOPLE
Whether you are a polo professional or a polo afcio-
nado, determining when to upgrade your string or move
on from an old campaigner is always the million dollar
question. Here are some facts that you should consider
when weighing those decisions. Commit to preparing a
written evaluation of each horse at the end of each season
where you can track or rate each horse in various catego-
ries. This will help you determine which horses you should
keep and which horses you should move on to greener
Compatibility
How does each horse's personality ft in with you and the
rest of your string? If you have a horse whose athletic abil-
ity is a 10 but it takes you half the season before he is play-
able, then you may decide that this horse, compared to
your others, is a "1" in compatibility. How does each horse
ft in with the herd? Do you worry about a bully when a new
horse is introduced to the herd? If there are too many low
marks in compatibility, that horse's shortcomings around
the barn may far outweigh the benefts of his athletic ability
rating and the best decision may be moving that horse on
Athletic Ability
Athletic ability should be rated in reference to how well
the horse and rider perform together. Athletic ability may
decline over the years and this system of keeping a written
account of your assessment will help you track this poten-
tial decline. Your horse may score a "10" when you buy
your frst horse and are a 1 player; but as your playing
ability or your tournament goal level increases, that same
horse may fall lower down on the rating scale. Once de-
termined, the reality will outweigh the residual emotional
rating that you gave the horse years ago when you frst
began playing. You may also may be pushing this horse
beyond it's capabilities for the same reason. Conversely,
it is possible that you may own a horse that you were over-
mounted on at the beginning of the season; but your ability
may have improved to the point where you are now ready
to get the most out of this horse's athleticism. Keeping
notes of this progress will keep you on the right track.
Age
Knowing when to move on from an older horse can be
a tricky thing, as well as knowing how young of a horse to
add to your string. It is important to decide what your goals
are for the upcoming polo season. If you have several old-
er horses who will need to retire or move on to less com-
petitive play, then you should begin adding some single
digit horses to your string so that you do not end up replac-
ing the entire string all at one time. Horses are like people;
they age differently and should be rated on stamina, speed
and recovery time, as well as how long it takes to bring
into peak ftness. It is ineffcient to have a horse who takes
more work to leg up and who may not make it through an entire
chukker any longer. Ask yourself if you would be doing the kinder
thing by moving this horse on to a less competitive player. There
is no magic panacea for determining which age is the right age to
stop playing a horse. Mike Azzaro played Beetlejuice in the U.S.
Soundness
Moving a horse into retirement or another career path due to
soundness may be one of the emotionally hardest decisions to
make. You may rate your best horse a "10" in compatibility, a "10"
in athletic ability and he may only be a youngster but if you spend
your time and money trying to keep this horse sound enough to
get on the feld and through a tournament with only 50/50 chance
of success, then you may have your answer. Degenerative and
reoccurring lameness is only going to worsen with tough competi-
tive play. Make sure you have a sound veterinary opinion before
you give up on one of your best horses; but know when to move
on. Chances are, if you stop pushing this horse soon enough, he
may be able to be recycled to a beginner or a trail-ride home and
live out many more years being appreciated and loved.
In summary, devise a rating system that suits your polo style
and demands. There is no one-size-fts-all and depending on the
size of your operation, turn-out options and fnancial restraints,
your decisions could fuctuate year to year. Your comfort will lie
in having an organized system by which you can justify your deci-
sions whether that may be to your boss, your spouse or yourself!
Kris' Corner
Rate Your Rides
(Horses, that is!)
Kris Bowman is the National Club Development
Director for the United States Polo Association.
She has achieved national acclaim for teaching
and developing adult and Jr. Polo programs across the
country over the past 20 years.