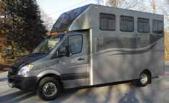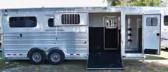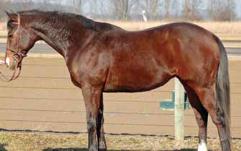 112 SIDELINES APRIL 2012
FOR HORSE PEOPLE • ABOUT HORSE PEOPLE
Whatever profession you choose there will be highs and lows. It
teaches you to be a well-rounded person and adds character.
Sidelines:
A month after giving birth you competed in one Prelim
and two Intermediate horses at MCTA (MD Combined Training
Association): how did you do that – juggle motherhood and
JP:
I ran the horses pretty slow as it was their frst run back but
they jumped fantastic. My strongest memories were a sense of
accomplishment: competing my horses well and having my baby
Jacob with me! It is a constant balancing act. I have an incredible
support team through my family as well as my grooms, sponsors
and clientele. It takes a lot of organization and also the ability to
Sidelines:
With your son now two, how did you stay ft for the
JP:
I did a lot of walking while I was pregnant and then started
riding horses again about a week after giving birth. If it was not
the year of WEG I probably would have not gotten back into the
saddle so soon! I felt very comfortable riding on the fat right up
to giving birth to Jacob. For some reason sitting on a horse was
physically more comfortable than sitting on a couch. Once I had
an epidural it was a pretty quick labor. I think around 2 hours.
Sidelines:
What are your long term goals? What keeps you
JP:
Developing more advanced level horses over the next four
years leading up to the next Olympics. I love what I do!
Sidelines:
What's your advice for riders, whatever their level or
JP:
VANS & TRAILERS
TRANSPORTATION
SHIP WITH CONFIDENCE- CUSTOM AIR-
RIDE
VANS –
Transportation Dependable coast-to-coast
service since 1959! NATION-WIDE HORSE
TRANSPORTATION, INC. Colorado Springs,
CO 80931 719-392-1888, Fax: 719-392-1891
www.nwht.net 1-800-451-7696 MA18
W.J. BARRY HORSE TRANSPORTATION
Serving the East Coast since 1957. Licensed
and Insured. Member National Horse
Carrier's Association. (CT) 203-792-2288, or
FARMINGTON GREEN HORSE
TRANSPORTATION
- (561) 791-9686; Cell No.
(954) 448-1044 D. O. T. Authorized and Fully
Insured Air Ride Equipped, Local and Long
SUZANNE LA PORTE – DRESSAGE
and Boarding, Year round in Loxahatchee, FL.
561-909-8163 or 561-644-7543 JA08
www.TeamworkDressage.com – Caring
Professional Excellence
Customized Training Programs for All Levels,
Trailer-in-Lessons Welcome. Select Quality
Dressage Horse Sales & Clinics. Libby and
Jules Anderson, Jupiter, FL Cell 202-213-3191
Email: teamworkdressageinc@comcast.ne
FRANK DIBELLA DELUXE HORSE VANS –
New / used horse vans and trailers 2-15 horse.
4 Star, Hawk & Kingston Dealer. (PA) 610-495-
2270 www.frankdibella.com
SIDELINES' CLASSIFIEDS
FIDDLER'S TRAILER – Service & Repair
Dealer for Elite, Cimarron, Adam & Trailers
USA. Nationwide delivery available 877-434-
3353 www.fddlerstrailers.com
Sidelines is now available at
Chapters/Indigo Bookstores in Canada
Needy Nags
Native Tongue is an 8 year old, 15.3hh Thoroughbred gelding
by Indian Charlie out of Savannah Canon by Shuailaan. Native is
a smart, talented horse that could be a very nice Dressage or low
level Hunter prospect because his powerful hind end and short back
allow him the ability to lighten his front end and he carries a nice,
natural rhythm. He has come a long way in his training and when
put to task, he steps up to the challenge. Native loves having an
important job because he is still a competitor at heart and a showman.
Native is currently going to turn out with two other geldings.
He loves his turn out time and will thrive with as much turn out
as possible. Native's last race was 3/30/10. He placed in half
of his 23 races and earned $107,168. Native has no vices.
Native can be adopted out to all states east and northeast of Texas,
including Texas. Native Tongue's adoption fee is waived. For more
information on Native Tongue or any of our other horses please
visit our website at: www.horseadoption.com or email Sandy at
application@horseadoption.com.