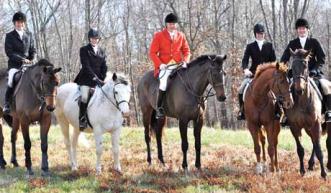 12 SIDELINES APRIL 2012
FOR HORSE PEOPLE • ABOUT HORSE PEOPLE
All in the Family
Horses and hunting have long been a family affair for John and Julie Coles. John, joint-Master of Foxhounds with Orange
County (The Plains, VA), grew up in a foxhunting family in Keswick (VA). His father Roberts was MFH and also hunted the
Keswick hounds, his mother Doris rode to hounds. Julie, the only one smitten in her non-horsey family, cut her equestrian
teeth running and jumping with Trader's Point Hunt. She also showed hunters for many years.
John and Julie's offspring return home whenever possible to visit and enjoy the thrill of the chase. Fraley, 27, is a
social worker in Baltimore. One year younger and the only son, Peyton attends graduate school for architecture at the
University of Michigan. Sloane, the baby at 23, set her sights on a career in show jumping. She has pursued her goals with
dogged determination and steely
self-discipline since her early years
as a junior on the circuit.
"Supplying Sloane with swimsuits
or tennis racquets would have been
a lot easier," quips John. "She loves
lacrosse and played all through
college, hardly missed a game. I'm
okay with her doing the horses; but
it's a tough way to make a living."
Sloane Coles – From Hunt
Field To Jumper Ring
By Lauren R. Giannini
Sloane Coles has never let hard work, long days or
adversity dampen her enthusiasm and passion for horses.
She fnished in the top four of the big fnals for juniors
and kept her sights on her goal: a job riding, training and
"I love the sport," states Sloane. "I love competing. It
Opportunity Knocks
That's a good thing, considering that she leapt at the
opportunity to ride in Belgium under the tutelage of Francois
Mathy, 1976 Olympic individual bronze medalist, who runs
a sales yard. Sloane's day starts at 8 a.m. and by the time
she is fnished, she has ridden at least 10 horses, ranging
in age from four to their teens.
"It's been a really good experience," says Sloane. "I
came here to improve my riding and my knowledge about
the business side of show jumping. It's still a sport, but
to be the best you have to be experienced in running a
business. The most important thing I've learned is not how
to sell a horse; but how to fnd a good one. I'm learning
what makes the best horses. You can fnd a good horse
anywhere and you have to give each horse a chance even
if it looks skinny or ugly or does lead changes with its head
in the air. I'm learning to see past those small things to the
quality of a good horse."
What better teacher than the horseman who spotted the great
mare Sapphire when she was just starting to dazzle in show
jumping: Francois contacted McLain Ward and the rest is a matter
of USA equestrian record and two Olympic team gold medals.
How Sloane made her way to Belgium harks back to four
hectic college years when she earned a degree in Sociology and
Business at Drew University (NJ), playing three lacrosse games
a week during the season and also riding with Mark Leone. For
many years he had done business with Francois and set things
up for Sloane to ride with him. She went over in October and has
braved -5 degree F weather, thanks to the indoor; but her goal is
to return home and get a job in the USA.
On Course For A Career Showing Jumpers
"I'd love a job showing," admits Sloane. "I love it here in Belgium;
but I really want to get back into the show ring. It was a hard
transition from junior to professional. I'm so thankful for every
person who helped me. I rode a lot of horses for different people
and I've been very lucky. My mom and dad and my trainers – I
had a great support system. When you step out of juniors that's
a wake-up call. You don't have those horses anymore and you're
up against the best, riders like McLain and Laura. I just keep
working hard. You need a team behind you as a professional and
Building for the future is something that Sloane and her siblings
Continued on page 14
The Coles family are enthusiasts
when it comes to a day's sport with
Orange County (l-r): Julie, Fraley,
John (jt-MFH), Sloane and Peyton