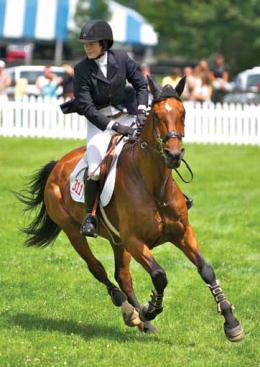 14 SIDELINES APRIL 2012 
FOR HORSE PEOPLE • ABOUT HORSE PEOPLE
Sloane Coles has a passion for jumping that took her from the
hunting feld to the show ring as a junior on the circuit to riding
as a professional in her early 20s: shown here with her mare
Louisiana (now retired to the family farm) in the 2010 $100,000
learned growing up. They may have had a lot of fun hunting as
a family; but they were all alone on their feld hunters and that's
an education in itself: how to survive when hounds are in full cry
and the fox is being diabolically clever about leading everyone on
a full-throttle chase through the countryside.
Continuing Equestrian Education
"Our kids are all great," says Julie. "Sloane made her choice
early about showing. John and I never put much pressure on
her. We fell into it. We took it one year at a time. From about
5th or 6th grade, Sloane was going down for the whole winter and
John or I went back and forth. She's a great kid – lots of fun and
very trustworthy – very disciplined, too. She loves foxhunting and
hunts every chance she gets when she comes home."
Sloane spent the Christmas holidays with her family. She
hunted as much as possible and rode along with Fiona Anderson,
the professional whipper-in married to Orange County huntsman
Reg Spreadborough. When it came time, she returned to Belgium
where it's been bitterly cold compared to Virginia.
"I've lasted through most of the winter and I think I'd like to
stay here through the summer," admits Sloane. "Francois is
unbelievable and I'm so happy to be learning from him. He has
a great eye for a horse and he's a little bit old school; but that's
good for me. This hasn't been a vacation – it's been continuing