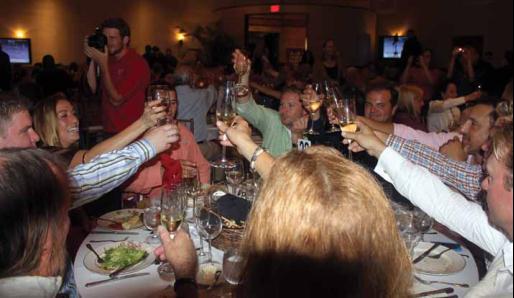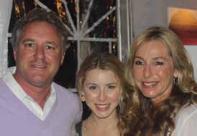 24 SIDELINES APRIL 2012
FOR HORSE PEOPLE • ABOUT HORSE PEOPLE
Vinceremos Therapeutic Riding Center
Raises Over $500,000 During "Our Superheroes" Beneft
T
he International Polo Club was alive with
anticipation as the 25th Annual Vinceremos
Therapeutic Riding Center's Beneft Auction,
Dinner & Dance got underway Friday, February 10,
2012. The sold-out beneft had over 400 guests
gather at the Nespresso Pavilion, placing their bids
in the Premiere Lounge and observing the "Buck Off"
as the fnals commenced. Chairwoman Tuny Page,
Young Professionals Chairwoman Devon Kane, and
Celebrity Hostess Tami Hoag headed the event, more
affectionately named, "Our Superheroes." The evening
recognized the numerous volunteers and supporters
of the Vinceremos Therapeutic Riding Center (VTRC),
acknowledging their help and generosity that has
continued the center's philosophy "to overcome"
disabilities through the everyday miracle of horses.
Overall, the Beneft raised an astounding $520,000.
This year's Beneft Auction Dinner & Dance featured the
frst-ever Premiere Lounge, an idea conceived by Young
Professionals Chairwoman Devon Kane, where attendees
had the opportunity to bid silently on top-of-the-line items.
After dinner, Brian Lookabill emceed the Live Auction,
rallying up the guests to reach into their pockets and bid on some
of the most outstanding items ever offered, including Two Tons
of Hay from Larsen Farms and feed from Purina, a whirlwind trip
to New York with a luxurious stay in the Sherry Netherland Hotel
and tickets to see any Broadway production, a mountain-view
penthouse stay in Vail, Colorado, two complete custom riding
outfts from Alessandro Albanese, an environmentally friendly
fight to either New York, NY, or Los Angeles, CA, aboard Green
Jets, and a once-in-a-lifetime trip to Sotogrande, Spain. The fnale
this year included an honorary membership to the International
Polo Club Palm Beach, and an Eby Victory Series Trailer. It
became apparent that the guests were more than willing to dig
deep, as the Live Auction raised an overwhelming $110,000.
The silent auction was also a success with gift certifcates for
restaurants, theater performances, spa packages and items from
the ever-supportive Wellington merchants. The Premiere Lounge
totaled $60,000 from the bids placed. During the silent auction,
guests had the opportunity to adopt one of the VTRC's horses
for the year. This important contribution underwrites the care
of the horse for an entire year, and is key to the organization's
success. This was the frst year that the VTRC offered a Horse
Hunter and Jeanie Harrison
Mark, Paige and Katherine Belissimo
The tables raise their glasses for a toast as the VTRC thanks their "Superheroes."
Continued on page 26