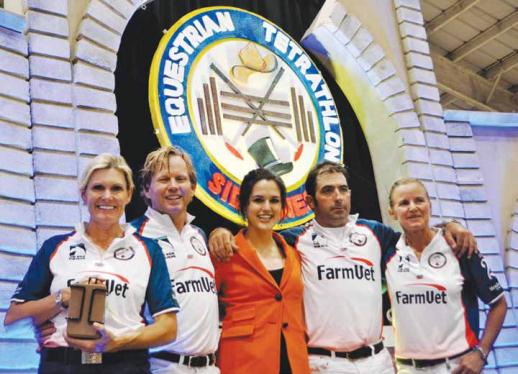 42 SIDELINES APRIL 2012
FOR HORSE PEOPLE • ABOUT HORSE PEOPLE
Team FarmVet Does It Again!
By Sheryl Kursar
T
he FarmVet team of Christian Currey,
Ashley Holzer, Candice King and Whistle
Uys proved to be the team to beat again
this year as they won the Second Annual Sidelines
Tetrathlon, presented by MeadowView and The
Riggio Family, the FarmVet team took the early lead
over MeadowView, Palm Beach Equine Clinic and
newcomer Flintfelds Horse Park. The annual event,
which benefts the Equestrian Aid Foundation was
held Sunday, February 5, 2012, in West Palm Beach,
The Jim Brandon Equestrian Center was transformed
into the Wild West - complete with a saloon and jail, where
some guests spent part of the evening after being secured
by the sheriff's posse. The saloon, by Port-A-Party, created
a great environment for football fans with four large-screen
TVs. Guests were welcomed with signature cocktails from
Tito's Handmade Vodka and appetizers from Oli's Fashion
Grill. Event co-chairmen R. Bruce Duchossois and R. Scot
Evans presented an evening of equestrian competition,
great food, games and silent auction experiences.
The Competition
Oliver Kennedy announced the equestrian competitions of show
jumping, reining, dressage and polo, as world-class horsemen
and women participated in a fun discipline switch. Each rider
received a Success Equestrian saddle pad, best known for its no-
The gambler's choice course, designed by Pierre Jolicoeur,
created a fast paced start to the competition. FarmVet's Whistle
Uys narrowly slipped passed Palm Beach Equine Clinic's Robert
Jornavayvaz, Jr. by 10 points.
The fan-favorite reining competition was judged by Mandy
McCutcheon, who is the only woman and only non pro to win $1
million in the sport. Amongst the whoops and hollers, Flintfeld
Horse Park's Mary Ann Grant was victorious, beating out
FarmVet's Ashley Holzer in a close class separated by only a few
It was FarmVet's Candice King who stole the show again. As
she entered the arena, no one doubted which team she was
rooting for on Super Bowl Sunday! Riding to the tune of "Go Big
Blue," King rode into the arena with her own set of cheerleaders
and started her test by passing the football. She did a great
impersonation of winning quarter back Eli Manning, complete
with football helmet, jersey and shoulder pads! One guest was
Continued on page 44
Winning it again! Team FarmVet's Ashley Holzer, Christian Currey, Kathryn Currey, Whistle Uys and Candice King enjoy their
second Tetrathlon victory in two years