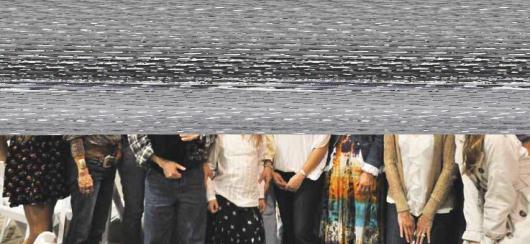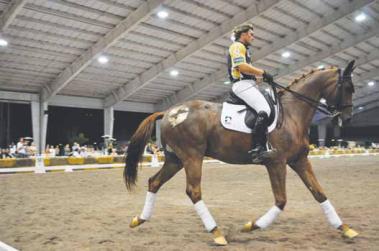 46 SIDELINES APRIL 2012 
FOR HORSE PEOPLE • ABOUT HORSE PEOPLE
Dawn and Caroline Adams and their guests flled four tables at the Tetrathlon
overheard saying, "I didn't know Eli
"The EAF is an excellent example
of how the equestrian community
is there for each other! Great
riders, staff and countless workers
all volunteered their time for the
help of equestrians needing help,"
said Courtney King-Dye. "It was
not only a great cause, it was a
blast! I awarded the FarmVet Team
an extremely high score simply
because they showed the team
spirit that embodied the night, flled
with cheerleaders in honor of Super
MeadowView's Nicki Simpson
earned second, riding to "Save a
Umpired by Marcelo Cabeza
of MAC Polo on his pink, polo
wrap-clad Connemara, the teams
battled it out over two seven-minute
chukkers. Flintfelds Horse Park
beat FarmVet in the frst match and
Palm Beach Equine Clinic edged
out MeadowView in the second.
Flintfelds Horse Park won the polo
With all the points totaled from
each discipline, it was Team
FarmVet with the victory for the
"I am very excited about the
success of the event and how many
people showed up to support EAF. I
look forward to 2013," said Christian
Continued on page 48
About the Equestrian Aid Foundation
In 1996, the Equestrian AIDS Foundation was established to assist those with
HIV/Aids. Recognizing a broader need, the organization changed its name to the
Equestrian Aid Foundation and revised its mission. Its mission is to assist anyone
in the equestrian world suffering from life threatening illnesses and catastrophic
injuries by providing fnancial assistance for their medical or other basic needs.
It is a 501(c)3 nonproft organization that provides grant recipients funding for
medical, healthcare, rehabilitation and essential expenses, such as housing and
food, throughout their time of need. Learn more at www.equestrianaidfoundation.
org, www.facebook.com/EAF.Ride4Hope or @ride4hope.
Palm Beach Equine Clinic's Francisco Zamudio
All photos by Sarah Dodge unless otherwise noted