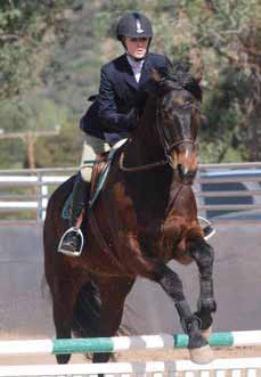 60 SIDELINES APRIL 2012
FOR HORSE PEOPLE • ABOUT HORSE PEOPLE
Lauren and Lando sailing over one of the better jumps on course
Juniorside
Changing
Perceptions
Lauren Corey
After all the preparation that went into planning the
Stanford show, it's hard to believe it is all over. The weekend
went by in a blur between hosting the show, competing and
even the non-horsey events that I couldn't put on hold. In
addition to the show, I was preparing for my debutante ball.
Instead of practicing my two-point, I had to practice my
curtsy. The organizer is going to judge all of the debutantes
and the girl with the best curtsy wins a bottle of champagne
when she turns 21! In addition to my debutante ball, I also
had to work on college applications, so I had to take a short
break from riding at my show barn. Needless to say, I
was super excited for the Stanford show since it was an
opportunity for me to get back into the saddle.
Problem Horse
A few weeks before the show, I had a lesson on a horse
named Lando. He used to be one of my favorite horses
in my freshman year; but as he has gotten older he also
become grouchier. In my lesson, he was a complete brat,
he tried to refuse most of the jumps and even took off at a
gallop when a Fjord that was in the lesson got too close to
him. Since Lando was in the Open division at the show, I
was crossing my fngers as I approached the draw table.
"Anything but Lando" was my only request. But of course I
drew him for both jumping and fat! I also was the second
person to ride him in my class so if the frst person didn't
have a successful ride, it would be even more diffcult for
An Incredible Surprise
I stood by the side of the ring watching the competitors
ahead of me. I tried to pay attention to how they rode the
course; but all I could think about was Lando.
Finally Lando entered the ring with the girl who drew him
frst. They had a slow canter departure and I knew it would
be diffcult for her to get him around the course. The rider
put in an amazing round; but Lando was incredibly lazy.
When it was my turn to enter the ring, I attempted to hand-
gallop the frst fence since a hand-gallop on Lando looks like
a normal canter on any other horse. Despite his laziness,
we made it through the frst half of the course fawlessly.
We had a roll-back to the next jump and I saw it would be
a little bit long. Just as I put my leg on Lando to move up,
he decided the speakers on the other side of the jump are
too scary and started backing off. I forced him to go over
the fence; but to say it wasn't pretty is an understatement.
We chipped, my leg swung back and Lando bucked; but
we still had to fnish the course. After that jump the rest of
the course was a blur since I knew my chance for victory
Despite that one jump, our round was great and we
managed to place in the class, a feat I had thought
impossible. I was so proud of Lando for listening to me
that I bought him an apple from the taco truck at the show. I was
looking forward to the fat class since we had such a great round
over fences. Luckily Lando was only in the Open division so he
would not be too tired when the fat classes roll around. Since
I had been unable to ride much before the show, I was looking
forward to a nice, long fat class that I could just enjoy. I never
get nervous for the fat class and it is one of my favorite parts of
the competition. All of my friends think I am crazy for loving such
a "dull" and "boring" phase of competition; but I enjoy testing my
endurance and seeing how long I can hold the correct posture.
I mounted Lando and entered the ring full of confdence and
anticipation for a fun class. Lando was perfect for the entire class
and we placed second; but I was disappointed since the class only
took about fve minutes. It was the shortest fat class I had ever
experienced and I wanted to ride Lando a bit longer.
Now when I arrive for my IEA lessons, I hope that I can ride
Lando. We built up a connection and he is once again one of
my favorite horses. He is diffcult for me to ride since I am used
to struggling to hold a jumper horse back from the fence. Lando
tests my ability to be light on the reins and rely more on my leg.
And with all of my college applications fnally out the door, I get to
resume my lessons at my show stable.
Lauren Corey is a junior at Woodside Priory School in Portola
Valley, California.  She aspires to become a Big Eq rider as well
as possibly compete in the Grand Prix ring.  Lauren also spends
much of her time practicing piano and hopes to fnish the fnal
level of California Music Examinations next spring.