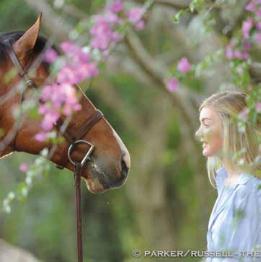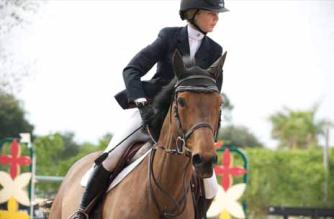 66 SIDELINES APRIL 2012
FOR HORSE PEOPLE • ABOUT HORSE PEOPLE
A Few Minutes with Lauren Tyree
By Jan Westmark-Allan
A sophomore in high school, 16 year old Lauren Tyree
stays busy with school; but the Chicago resident stays
even busier with her riding career. Lauren has set goals
and hopes to achieve them. "Some of my goals are to
make the Young Riders Junior Team for Zone V, to make
the Prix De States team also representing Zone V, to
someday win an equitation fnal and to be successful all
around at all of my competitions," she said.
Lauren was happy to escape the Chicago cold for a
few months to compete at the Winter Equestrian Festival
in Wellington. "I focused mainly on the equitation and the
jumpers this year at WEF," she said.
Lauren Tyree started riding when she was a small
child thanks to her mom's infuence. Lauren's mom was
a rider and when Lauren and Catherine (Lauren's sister
who is also featured in this issue of Sidelines) joined their
mother at the barn it turned into a family affair. "It's really
great having my sister by my side during all of this. I
get to share every experience with her. It's almost like
having two shots. If I don't win, I root for her. We are
very close and we understand each other and are able to
give advice to one another," Lauren said.
Sidelines:
What do you like best about being a horse
LT:
Ever since I was a little girl, I've loved horses. I
loved doing anything that had to do with them, whether
it was barn work or riding or caring for them. I just loved
being around them. It's a great feeling to be able to do
what I love while working with animals. Very few people
understand how to communicate with horses and I feel
very fortunate to be able to be one who can. I have to
say that I love the day-to-day activities of being a horse
owner as much as I enjoy competing.
Sidelines:
You train with a lot of people; how does that
LT:
I train with Katie and Kris Kappler and Nora and Morgan
Thomas. I love having such a large team because I get input
from many different perspectives, each one having their own
specialty area. They are all truly amazing.
Sidelines:
What do you consider your career highlights?  
LT:
I won the Low Junior Jumper Grand Prix at the National
Horse Show in 2009. In 2010, I won the IHJA Junior Medal
Finals and in 2011, I was 9th at the Maclay Regional's and
ninth overall at the Washington Equitation Finals. 
Sidelines:
What horses do you own and
LT:
I own Lorca De Caryan, Hunter De Laume
and Annie XV, who are my junior jumpers. I
also own Salt Lake and Karnavall who are my
equitation horses.  We have an equitation horse
just coming back, Lancelott, that I will probably
start to show and my mom has a young hunter
that I will possibly do something with during WEF.
Sidelines:
If you weren't a rider, what do you
LT:
Honestly, I haven't thought about anything
but riding. But if I had to say, it would have to be
Sidelines:
What do you do in your spare time,
LT:
When I am not riding, I usually spend my
time studying or doing schoolwork so I am able
to miss as much school as I do. But I enjoy
spending time with my friends or just hanging out.
Lauren with Capstone, her large junior hunter
Photo by Parker/Russell – The Book LLC 2012
Lauren competes Lorca De Caryan