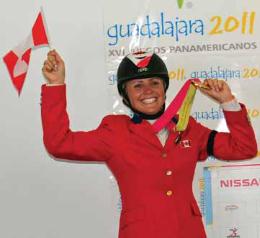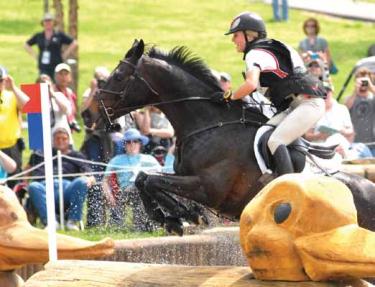 74 SIDELINES APRIL 2012
FOR HORSE PEOPLE • ABOUT HORSE PEOPLE
A Few Minutes with Jessica Phoenix
By Lauren R. Giannini
At the 2012 Guadalajara Pan American Games, Jessica
Phoenix from Uxbridge, Ontario, harvested the individual
gold medal and team silver, thanks to a brilliant ride with
Pavarotti, owned by Don J. Good.
Jessica's son Jacob is now two years old and into
everything. Her husband Joel Phoenix (they met in high
school) is just as busy with his cattle ftting enterprise as
Jessica is with her feet of event prospects that range from
Baby Novice to international caliber. Fortunately, they
understand the level of commitment necessary to excel.
Sidelines:
What was your frst team experience like?
JP:
The best memories are of the people you share
these moments with. My teammates are like family. This
includes all of our support staff and coaching! Mexico was
such an incredible experience to share with Don J. Good,
the owner of Pavarotti. We are all looking forward to this
horse's future. Don understands the sport and what it
takes to compete at this level. He is also a good person,
excellent businessman and really easy to work with. David
O'Connor, our chef d'Equipe, is incredible. I think we are
all grateful for everything he has accomplished in his short
time with us and we are really looking forward to London!
Sidelines:
What makes horses like Exploring, who came
so close to the Olympic dream, Exponential, and Pavarotti
JP:
Every horse is very unique and individual to ride. All
three have strong personalities and are real characters. I got to
see Exploring in Florida while he competed with his new rider,
Alyssa Phillips. He looks amazing and still has the same cheeky
look in his eye! I have to confess I
teared up when I saw him and it made
my weekend to be able to give him a big
hug and kiss! It's such a great feeling
to see him and Alyssa having so much
fun together and forming such a great
partnership. Exponential is probably
the best jumper I will ever sit on. He is
also one of the best cuddlers. I love the
partnership I have in this horse and can't
wait to see what the year ahead will hold!
Pavarotti is the sweetest horse ever but
don't let that fool you. He is also one of
the most mentally competitive horses
I have ever sat on. He understands all
three phases and loves each one! I can't
wait to do a four-star with this horse!
Sidelines:
How did you deal with the
disappointment when Exploring got
injured and you couldn't ride on the team
for 2008 Beijing Olympics?
JP:
I have an incredible husband and
family that keep me grounded. I am also
a very focused person and understand
that unfortunately not everything always
goes as planned! It was a true heartbreak
but if you don't experience the lows it
would be hard to truly appreciate the
highs such as the 2011 Pan Ams. Also,
anything worth doing is challenging. 
Jessica Phoenix (CAN) and the individual gold she earned with
Pavarotti at the 2012 Guadalajara Pan Am Games, thanks to
double clear show jumping rounds
Photo by Allen MacMillan/MacMillan Photography
Grinning through Head of the Lake at Rolex 2011: Jessica Phoenix and
Exponential fnished on their dressage score for seventh place at the premiere
Photo by Lauren R Giannini
Continued on page 112