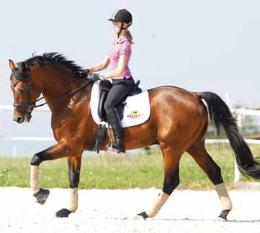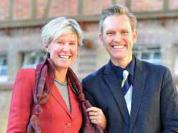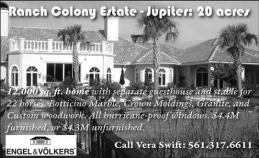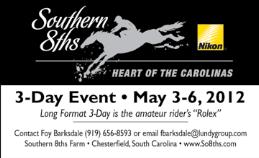 80 SIDELINES APRIL 2012 
FOR HORSE PEOPLE • ABOUT HORSE PEOPLE
Hannah and Lingh get to show off just a little bit
existed, if the stallion was genuinely in self-carriage. Lingh and
Hannah progressed to three changes in a row on a diagonal.
Bliss for Hannah, excitement for everyone who watched a young
equestrian experience a transformational journey one glorious
"I like my riding now, I am better because of Lingh," stated
Hannah. "One of the important things I learned is to ride a horse
like him in a sensible way and that my hand should be very, very
friendly." As for Lingh, he had proven yet again that he is still a
world-class performer and a gentleman. It really doesn't get any
Lingh's History
Lingh is known to be easy to work with, thanks to his honest and reliable nature, and of course he is very
athletic. His sire Flemmingh (by Lacapo), a famous Preferent stallion in the KWPN, scored three "nines" (one
for jumping) at his performance test in 1990. Gazelle, Lingh's dam, earned the highest prizes in the KWPN for
From 1999-2006, Lingh partnered with Edward Gal (NED) and they garnered a number of Grand Prix wins.
They capped a great partnership with the silver medal at the 2006 World Equestrian Games in Aachen. That
December Karin bought Lingh and spent the next two years with the stallion, competing as an amateur. They
harvested several frst places and a number of top 10 rosettes. In 2007, they fnished ffth in the Grand Prix
and the Grand Prix Kur at Dressage at Devon: Karin won the Valerie Kahan Memorial Trophy for being the top-
placing adult amateur Grand Prix rider for the second consecutive year.
"Devon was the highlight of my work with Lingh after purchasing him," said Karin. "I had rehearsed the Kur a
million times and felt prepared. Those two nights were a team effort and those two rides were amazing."
Karin has an extensive background in hunter/jumper showing and as a junior, fnished in the top 10 in the
AHSA Medal Finals (Harrisburg). She changed her allegiance, however, discovering a passion for dressage.
Her involvement runs the gamut from training and competition to promotion.
Riders don't often get to ride a horse as correct as Lingh and Karin recalls Robert Dover saying each day, "It
does not get better than that!"