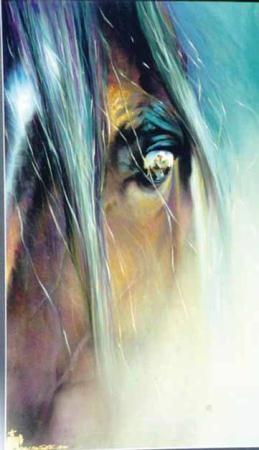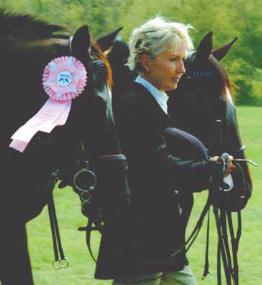 92 SIDELINES OCTOBER 2012 
FOR HORSE PEOPLE • ABOUT HORSE PEOPLE
or Sally Phillips-Buffngton, art is a way of life. A former
portrait artist and lifelong equestrienne, Sally is now
taking on the world of equine art one stride at a time.  
"My frst love was always horses," said Sally. "My second was
art." Sally, who graduated from the Mississippi University for
Women with a Bachelor's of Fine Arts, has made both of her
passions into her professions. As a professional portrait artist
Sally has many notable works, including being commissioned by
the American Red Cross to paint a portrait of General Norman
H. Schwarzkopf, commander of the Coalition Forces in the Gulf
War, the offcial portraits of the mayors of her former hometown in
San Antonio, Texas and a spread in Southern Living Magazine.
Sally began her portraiture career entirely by accident. She
displayed a few of her paintings at a local art show, hoping to sell
one. Instead, she came away with 35 deposits for commissioned
paintings. "I didn't even know how much to charge," said Sally. "I
was trying to fgure it out as I went." As her work was featured in
magazines and prominently displayed in public places, requests
for portraits poured in. She worked on them constantly; but still
felt like there was something missing.
Sally decided that something was her horses. "I didn't have
time for my horses," she said. "I was so busy with portraits."
Sally decided to take a hiatus from portraiture and became a
USEA Certifed Instructor. Her new path gave her the time she
needed to teach, ride and compete. She devoted herself fully
to her horses, setting aside art entirely to concentrate on her
Like so many other horsewomen, Sally's passion can be traced
back as far as she can remember. "When I was little, I would
pray for a horse," said Sally. "Finally my parents told me that
they couldn't buy me a horse because we didn't have anywhere
to keep it. After that I started praying for a pasture."
Although she'd had equine companions for many years, Sally's
prayers for a pasture fnally came true. She and her husband
moved to just outside Madison, Georgia, onto what she refers to
as her "little bit of heaven."
"When we walked onto the property, I looked at the realtor and
told her 'this is where I'm going to live,'" Sally said, of the land
that now holds her three stall barn. "We built the barn frst and
lived in the living quarters above it until the house was done."
Sally has been training students out of her house full time;
but her last committed rider is going off to college this fall. "I'm
Sally Phillips-Buffngton's