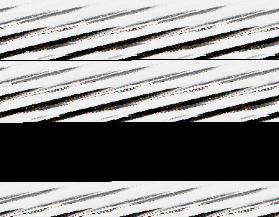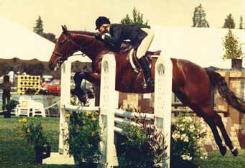 102 SIDELINES MARCH 2013
FOR HORSE PEOPLE • ABOUT HORSE PEOPLE
reminisces on the exciting new show venues and friendly people
of California and the dedicated support of her parents during her
junior and amateur career.
In the mid 90s, Laura took charge of the Team O'Connor name
and transitioned the operation into a two-location business with
upwards of 35 horses in training. As with every phase and success
in Laura's equestrian life, she gushes with pride and gratitude
about the people and horses that made that era special to her.
She exclaims, "This went on for many years and I'm grateful for
the wonderful people and horses I was lucky enough to get to
know, teach and enjoy at that time. My girls were amazing!"
In 2001, Laura's stint in California came to a close just as it had
started: in the wake of disaster. This time, instead of the natural
disaster that shook California 12 years earlier, it was the infamous
day of 9/11. Laura was showing a new grand prix stallion in SoCal
at The Oaks when the tragedy occurred. Far from home - the
bridges in the bay area were shut down for fear that the Golden
Gate bridge would be another terrorist target - and blocked from a
route home, Laura shipped her new jumper stallion to Florida for
a season. She never left.
As fate would have it, another seeming disaster would strike to
alter Laura's career yet again. The same stallion that she toted
to Florida, accidently kicked her in the knee before the circuit
had even commenced. The injured equestrian was sidelined for
months, wondering what would come next for her.
I was terrifed. I realized I didn't know how to do anything
but ride a horse. I thought, "What would I do if I wasn't able
to ride again. How will I survive?"
So, Laura took a break from the show ring. The ever-hard-
working rider kicked off her boots and hit the books to get her
license to practice real estate. Starting at a small boutique in Lake
Worth and progressing to a broker in Wellington, Laura had found
her second calling. The passionate businesswoman was not about
to leave Team O'Connor behind, so the name still appears on her
business cards: Team O'Connor Real Estate, Inc. The business
entity specializes in equestrian real estate, of course.
Happy people are contagious which is why I like to be
around the positive and glass-haIf­full crowd.
After a 10-year hiatus to pursue her career, Laura's beau Andy,
convinced her that she needed horses in her life again, not just
in the equestrian real estate capacity. Despite Laura's trepidation
about buying horses with her "non horse person" boyfriend and
Laura enjoyed a wonderful partnership with
her incredible jumper stallion, Oskar.
Laura riding Stillwater at the Menlo Circus Club in northern
Photos courtesy of Laura O'Connor, unless noted.
juggling riding with her career, she knew he was right. Except this
time, she would tone down the intensity and just ride for fun. She
says, "The pure pleasure and enjoyment that comes with horses
was always the driving force behind my dedication. But being such
a ferce competitor in the past, could I handle riding and showing
just for fun at a lower level and not letting the competition aspect
of the sport consume me?"
Laura's frst time back in the show ring in a decade was a
successful trip in the level 5s. She remembers, "The heart
pounding, wind in my face, where's the next jump, galloping on
feeling was incredible!" After such a thrilling comeback, Laura
is eager to passionately continue the pursuit of her two favorite
endeavors, riding and Team O'Connor Real Estate, Inc. She
hopes to inspire others on the sidelines to get back in the tack as
she did. The risk is worth the reward.
If anyone out there wants to show and isn't sure if they
can get back in the ring, take it from me: It's well worth
getting off the fence. Just go for it! Enjoy the horses and
About the writer: Alessandra Shultz grew up in the mountains of Colorado, but now
lives in upstate New York to study Apparel Design Management at Cornell University.
She currently has two mares which she trail rides and shows in the jumpers.