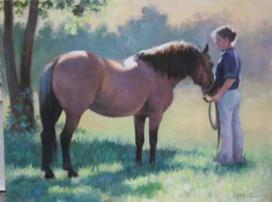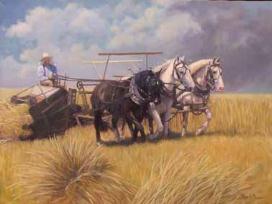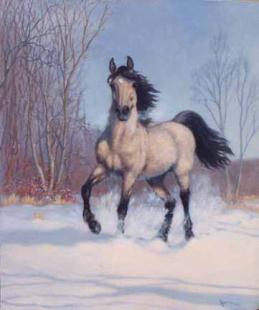 112 SIDELINES MARCH 2013
FOR HORSE PEOPLE • ABOUT HORSE PEOPLE
during one in which she discovered her home away from home.
For the frst time she felt a sense of belonging and community.
"Equine artists sometimes hear the question "Why do you want
to paint horses?" often asked with a raised eyebrow. I guess you
either "get it" or you don't. That has always surprised and confused
me and I frequently felt like a bit of an outsider," Sheila said. "All
that changed when I discovered the AAEA! My frst experience
with the Academy was a workshop in 1992 with the late, great,
Else Tuckerman. I no longer questioned what my life path was! I
was fnally sure "what I wanted to be when I grew up! I had come
Starting with oil painting at age 16 she has always pursued
a life with art and a life with horses. Working primarily with oils
and occasionally pastels and gouache she creates visual tales of
horses, their surroundings and their relationships with handlers,
people and other animals. The paintings have a romantic, intimate
feel to them, inviting the viewer into the story to interpret it and
"I have a hard time describing my art. I have been told that it
is romantic. I do know that the 'old masters' style' is where I have
found my greatest satisfaction and the method that gives me the
feeling that I am looking for. I love the 'loose' look of today's fast,
bold brushwork and at one time struggled to adopt it; but I came
to the conclusion that a more traditional style was my natural path
with an occasional foray into a bit of impressionism," said Sheila.
"I draw much of my inspiration from a deep inner connection
that I feel for horses, the joy that riding was for me and the
beauty of the relationship with a horse that I raised and trained,
had for many years and was so connected to."
Sheila has unique knowledge of the AAEA having
experienced all it has to offer prior to becoming president. She
has transitioned from an oil painter looking for knowledge, to
teacher, board member, to being voted in as president.
As president she delegates responsibilities among members
for a variety of duties, organizes two exhibitions a year and
coordinates in person and remotely with the board to achieve
smooth operation. "I try to make sure we are working together to
keep the organization running smoothly and that it continues to
prosper. In April and September I travel to Kentucky to chair the
meeting of the Board of Directors, attend the exhibit openings
when they are held in the Kentucky venues and occasionally
teach a workshop," explained Sheila. And "My goal is to make
the AAEA a place that celebrates Equine Art and Artists,
promoting this genre by exhibiting work by the best artists in
this feld. We try to set the bar high and at the same time we
do all we can to help more artists reach and exceed that level."
AAEA offers two levels of membership, associate and full. To
be eligible as an associate the artist must have work accepted
into three AAEA exhibitions. Full membership is by invitation
only. "One will learn so much from these experienced artists
and it will help you to become the best you can be at your
chosen calling and to fnd your own path. You will, one day, be
helping another aspiring Equine Artist to celebrate the horse in
About the writer: Amy Herzog is a freelance writer and photographer who has
been riding hunter/jumper's since second grade. She has a BA in Communication
from DeSales University in Center Valley, Pennsylvania.
All paintings by Sheila Barnes
Wheat Harvest, 18 x 24, oil
Mr. January, 20 x 24, oil