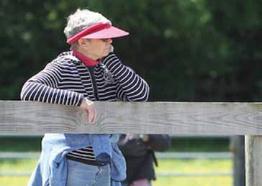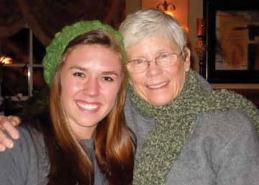 114 SIDELINES MARCH 2013
FOR HORSE PEOPLE • ABOUT HORSE PEOPLE
Corky Shaha (right) and Ashlyn Dorsey are all smiles.
hanks to long-time trainers like Corky Shaha,
Colorado's hunter and jumper world is alive and
well. Corky, former president of the Colorado
Hunter/Jumper Association, former Chairman and Chef d'
Equip for the Zone 8 NAYRC and recipient of the Colorado
Hunter/Jumper Association Lifetime Achievement Award,
has built a successful career in the mountain state of
Her career began in Virginia, however, about 15 miles from her
childhood home at the Junior Equitation School. There, she rode
under the late Jane Dillion - seizing every opportunity to become
a more knowledgeable and able equestrian. "Mrs. Dillion was
always looking for students who had a passion for horses and a
desire to work and learn," she said. "Early on, I was able to earn
lessons by working on the weekends, cleaning and tacking the
school horses and assisting with lessons."
Corky had the passion her instructor sought out and her career
took off early. While at the Junior Equitation School, Corky recalls
riding alongside Joe Fargis, looking forward to clinics with Captain
Vladimir Littauer (author of what Corky says was her bible –
"Commonsense Horsemanship"), attending local shows and
participating in the Fairfax Hunt. Corky also began teaching at
She then went on to graduate from Mary Washington College
(now the University of Mary Washington) in 1966 and headed to
Colorado where Corky taught Spanish at a junior high school for
That's where Corky's career as a trainer began. While in
Colorado, she founded her horse business in the 1980s in Lasalle.
As her business grew, she needed a partner so she teamed up with
her current business partner Paul Rohrbach – an internationally
accomplished show jumper. "Paul is 19 years younger than me
and brings fresh ideas for our business (now located in Parker,
Their business, Wells Bridge Farm, is a private training facility
nestled on 85 acres – only about a ten minute drive from the
Colorado Horse Park. Equipped with an indoor arena, two outdoor
arenas, trails, six grass turnouts, European-style walker and
treadmill, the farm is a perfect place for Corky and Paul to breed
future equestrian stars, like former student Nick Gegen.
Nick progressed from his frst ride to competing in world cup
qualifers in only fve years. "When he aged out of the juniors he
began working full time for Wells Bridge Farm and learned every
job: managing the barn crew, dragging the arena, hauling horses,
learning so speak fuent Spanish, vet care, teaching and coaching.
We are proud of his accomplishments and wish him luck with his
job with Guillermo Obligado in California."
But while ribbons and trophies are always a plus, Corky always
emphasizes safety and stabilization of horse and rider. "We are
developing horses and riders as athletes and also to be a team.
It is very important to us that the riders understand their horses
mentally and physically…We want riders to be able to enjoy their
horses and have fun whether they are beginners or riders that are
Corky and the Wells Bridge Farm team enjoy several shows in
Colorado, but also compete in several other states. A favorite is
spending eight weeks at HITS in Thermal, California. Later in the
year, they will also be traveling to the Texas Horse Park in Tyler,
Texas. "Even though we are in the middle of the country and do
have to travel some distances, we also like the ability to choose
the shows we attend and are also able to spend time at home
Wells Bridge Farm has been become Corky's family. She lives
on the property in the barn's original home along with Paul and his
family who live in another on-property home and the barn workers
who live in an on-property apartment. Together, they share the
barn's responsibilities and Corky does what she's loved doing
since 14 years old – teaching.
About the writer: Dani Moritz is a senior at William Woods University and is a
writer/producer and creative director for RateMyRiding.com. She is also the 2012
American Horse Publications Student Award Winner and a staff writer for Sidelines