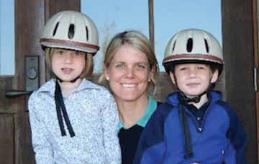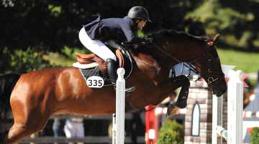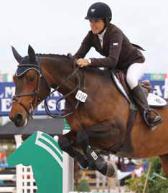 30 SIDELINES MARCH 2013
FOR HORSE PEOPLE • ABOUT HORSE PEOPLE
In October 2012 Heather Irons, Julie Ledoux and Ariane Stiegler
launched the Amateur Rider Association of America to serve as
the "voice" of amateurs, concentrating initially on the jumpers,
with plans to include hunters as their national membership
grows. ARAA debuted on Facebook, and the fedging non-proft
organization also has a website.
"So far we have about 100 members from all over – California,
Chicago, Florida, everywhere – the support has been very
favorable," said Ariane, ARAA president. "It's about equity across
the board. In the winter, amateurs go to Wellington and that's
where we become very aware of the differences in courses,
because the designer changes from week to week. We want
standardization of height, width and technicality on the national
level. Also, grand prix riders should not enter the low amateur
owners, since so many other divisions are suitable to train young
horses, like meter-30 and meter-40. We want to level the playing
ARAA's concerns are valid. For example, ESP offers three
levels of amateur owner jumpers – low, medium and high –
whereas Ocala offers low and high. It's a substantial jump to high,
if you show medium and/or low. Often, amateur jumper riders fnd
themselves facing courses set at maximum height and width at
AA shows on the East Coast, yet in Chicago and on the West
Coast amateurs might be jumping smaller courses at the same
The goal of ARAA is for amateurs to represent their peers
and work with horse management and professionals so that
their divisions offer a positive experience and consistency of
specifcations, no matter which show or where it takes place. "We
think it will be a huge help for people to have a better idea of
what to expect when they show," stated Heather. "It's exciting how
much support we have already."
Anthony D'Ambrosio, award-winning course designer and
regular WEF technical delegate, said, "It's wonderful to hear
from a specifc group like [ARAA] about their needs and it's
also very helpful to sport management." Smart shows try to
make exhibitors happy in terms of footing, prize money, etc.,
but sometimes they forget that amateurs need their moments of
glory – that big class showcased in the main ring, for example.
Logistically, amateur riders, both hunter and jumper, comprise
the majority of the competitors in the show world. The USEF has
spend money: restaurants, retail shops, grocery stores, lodging,
feed and bedding, local help, etc.
USHJA Amateur Committee Chairperson Tracey Weinberg
showed as a child, trained with George Morris, and rode amateur
hunters until switching to the jumpers about 10 years ago. She
said, "The notion of standardizing the height and the width
specifcations in the Low, Medium and High Amateur Owner
Jumper Divisions is common sense."
ARAA aims to help riders achieve positive show experiences
by stimulating better communication and adherence to the
requirements for amateur divisions. It's rather disconcerting to
realize when you're walking the course that you're in over your
head. Showing is all about making your best efforts and trying to
win. Clarity and consistency can only beneft the amateur. You
might end up a rail shy of a rosette, but at least you fnish the
day knowing that you and your horse and your trainer had all the
information necessary to prepare for the demands of your division.
For information about Amateur Riders Association of America,
visit their page on Facebook or http://www.amateur-rider-
association-of-america.org/
ARAA co-founder Heather Irons, amateur jumper rider, and
offspring, already pony-crazy.
Photo Courtesy of Heather and Ryan Irons
ARAA co-founder Julie Ledoux and Falexis at Gold Cup,
Photo by Parker/Russell-The Book LLC
ARAA co-founder Ariane Stiegler and
Quietude competing at the 2012 Winter