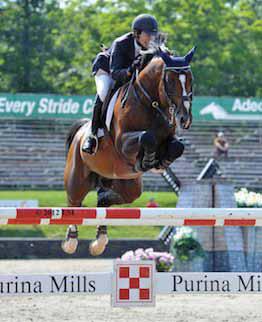 32 SIDELINES MARCH 2013
FOR HORSE PEOPLE • ABOUT HORSE PEOPLE
The Unstoppable Margie Engle
Everybody dreams of being their hometown hero and for one
hardworking woman in South Florida that dream came true.
Margie Engle makes her home in Wellington after growing up in
Miami and riding all her life. She started at the bottom, working
around the barn for lessons; but eventually went on to represent
the United States internationally at the Olympic Games, Pan
American Games, World Cup Finals and World Equestrian
Games. She is a 10 time American Grand Prix Rider of the Year
and in 2012 she added another title to her ever-expanding list.
In front of a sold-out crowd of fellow South Floridians, 54-year-
old Margie captured the Co-National Championship title alongside
Reed Kessler during the weeklong United States National
Championships. Following fve days of grueling tests and Olympic-
caliber courses, Margie and her talented mount Indigo topped the
country's best horse and rider combinations.
"We hadn't had a National Championship in a long time and it
was kind of exciting to have it here in Wellington," noted Margie.
"Indigo is owned by a group of people, so it was nice for them to
be able to see him go. I was really happy with how he jumped. I
thought it was very demanding and very big courses. A couple of
the nights were as big as anything I've done even internationally
like Aachen and the Olympics, WEG, they were very large
A setback last year stopped Margie's banner year in its tracks
though when she broke her ankle and fbula on her right leg while
schooling a catch ride. "Indigo ended up getting most of the year
off because I had hurt my ankle on another horse," she explained.
"I missed half the year being out with the injury. I damaged the
bones and the soft tissue in my ankle. I really missed being away
from it. I was able to go to the shows and help my students, but
that's probably the longest period of time I've not ridden in over
Every rider falls off at some point during his or her career and
Margie is no stranger to serious falls, including breaking her hip in
2004. "I've had other serious injuries, I've just never had any that
have kept me out this long," she commented. "I've had a lot more
serious injuries; but the recovery was faster."
Margie continued, "It's diffcult because you have to try and stay
in shape. I did a lot of physical therapy. I was able to do a lot of the
training an teaching at the barn. That kept me involved with the
horses. It's frustrating to not be able to ride and get on the horses
for any length of time though when you are used to being active
and riding all the time. It's hard to sit out and just watch."
For some riders, it can be diffcult to get back in the saddle after
a serious accident; but Margie's passion for riding was her only
focus during her time away. "I was just trying to get physically
ft enough to get back on," she admitted. "Maybe I don't have
enough sense to be timid and worry about getting back on; but I
really don't think about it that much." "
"I should probably have a little more sense of self preservation,"
laughed Margie. "Probably people with more common sense
would be more worried about the injury aspect; but for me it's
more that I am thinking about getting physically ft and strong
Margie's hard work certainly paid off when she made her return
to the ring at the end of 2012. She placed ffth with Indigo in the
$85,000 FEI World Cup Qualifer at the Pennsylvania National
Horse Show after producing a double clear effort in October and
then went on to place third in the $50,000 Holiday & Horses FEI
World Cup Qualifer with Royce in Wellington.
"It's great to be back," smiled Margie. "I really missed being
away from it, so it's nice to be back riding again and making a plan
Margie Engle -- back and in great form.
"We are thrilled to have Margie as part of our EquiFit team. We
congratulate her on all she has accomplished and on caring for
her horses with EquiFit products." - EquiFit founder and CEO
SmartPak is a proud sponsor of Margie Goldstein Engle.
Back On Track is a proud sponsor of Margie Goldstein Engle.