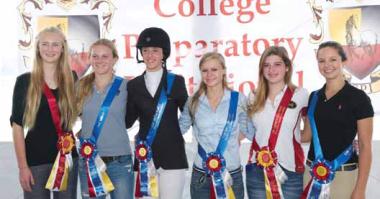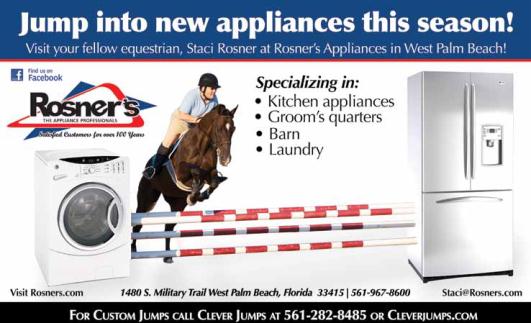 36 SIDELINES MARCH 2013
FOR HORSE PEOPLE • ABOUT HORSE PEOPLE
Kelley Buringa
from Golden, Colorado and
Capricorn Farms. Kelley recently joined the Hunter/Jumper team
at Rancho Corazon in Lemitar, New Mexico. Best of luck to the
McElvain family and Kelley in the 2013 Horse Show Season.
Sidelines Magazine's Mountain States sales rep
Kayce
Douglass
is excited for her cousin,
Gail Costello
who rides cutting horses. Although it is early in the season,
Joe's
Midnight Son,
is ranked second in the Arizona Cutting Horse
Association, and ranked 5th in the World NCHA Limited Rider,
2000 National Cutting Horse Association Finals. Joe's Midnight
Son and Gail are headed to Las Vegas.
Continued on page 38
Invitational took place at the
Equestrian Center in January.
The winners of the College Prep
Invitational scholarships were
(left to right): Reserve Dressage
Clare
Burke
Cassie Crotty
Brianne Link
Point Dressage Seat Equitation
Ashley Guidry
Hunt Seat Equitation Rider
Jessica Hall
Alexandra
Adams
Melisa Pearce
Molly Pearce
University Medical Center with a grave illness that requires organ
transplants. Melissa and Molly are encouraging everyone to think
about becoming an organ donor by supporting "Donate Life."
Catie Staszak
, former Sidelines Magazine Junior Perspective
columnist is doing quiet well in college. She reports, "You never
know what a simple gesture can turn into. Over the summer my
dad and I decided to help out a woman who was struggling to
hang up banners at the Belmont Stakes. The woman worked
for HRTV, one of my dream employers. Eight months later, that
woman remembered me, and she just offered me a job working
with HRTV this weekend. I'm going to be a production assistant at
the Eclipse Awards!! Ahhh!!" Congratulations Catie!