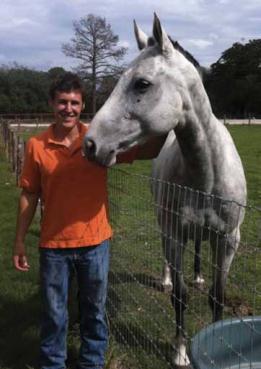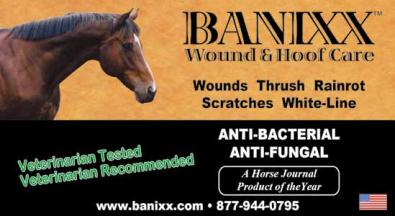 50 SIDELINES MARCH 2013
FOR HORSE PEOPLE • ABOUT HORSE PEOPLE
Devin Vass Loves The Game
Devin Vass didn't grow up with horses, but they were in his
genes. His grandfather, Walter Durrett, trained racehorses and
played polo. Until Devin went to Culver Military Academy and
started taking riding lessons (required if you're in a troop), he
played football and lacrosse and wrestled. At the end of freshman
year, the instructor told him he was perfect for polo and that he
would really love the game...
"I'd really been into school sports – everybody thought I could
wrestle in college, but when I tried polo, I fell in love with it and
that was that! I quit everything to play polo," admitted Devin. "I
decided to ride for the team and I made it. I spent time in the polo
cages. At the beginning I went every day for an hour. I worked with
our coach, Tom Goodspeed. He is one of the greatest coaches
and probably one of the reasons why I made the team. He saw
something in me and worked with me to bring it out."
Now a junior at Texas A & M University, Devin has played
polo for six years and his major has shifted from Animal Science
to Engineering. Four years ago he started working for Nick
Rennekamp, in LaGrange, Kentucky, who taught his protégée
about fnding suitable playing prospects, bringing them along and
"Last summer Nick had a big sale – 21 of the 22 horses sold –
and I earned enough from the commission to buy four horses and
a trailer," said Devin. "I had found a mare in Texas the year before
and she ended up at Nick's. He rode her a few times, but I was in
charge of most of her training. I played her all summer. That mare,
Crème Lea, brought the biggest price, but it's what she taught me
that was even more important."
Devin harvested greatly from Nick's lifetime of knowledge,
which dates back to the years he trained horses for Billy Wayman,
a consummate horseman who infuenced everyone around him,
including son Tommy Wayman, 10-goal Polo Hall of Famer.
"I got a late start, but hand-eye coordination wasn't a problem,
so I focused on horsemanship," said Devin. "Nick taught me
everything – how to tell the difference between a nice horse and
one with the potential to be great. Nick is one of the last horse
whisperers. He's 60 now – he used to play at four goals, but he
still rides at 10. He's all about breeding and the eye of the horse.
Nick taught me about patience when I train."
Devin's plans include fnishing
his degree and eventually
getting hitched to his fancée
Sky Heinrich, who is also crazy
about polo and plays on the
women's team at Texas A&M.
Horses and playing are major
factors in his overall game plan,
"It means a great deal to me
to be chosen for Team USPA,"
stated Devin. "All the hard work
I put in and the effort everyone
has made to helpme accomplish
my goals is paying off. It means
I can start playing tons of polo
and fnish the foundation that
started to build. I want to train
horses for the rest of my life. I
Devin with Le Bull, grandson of Holy Bull, Thoroughbred Horse