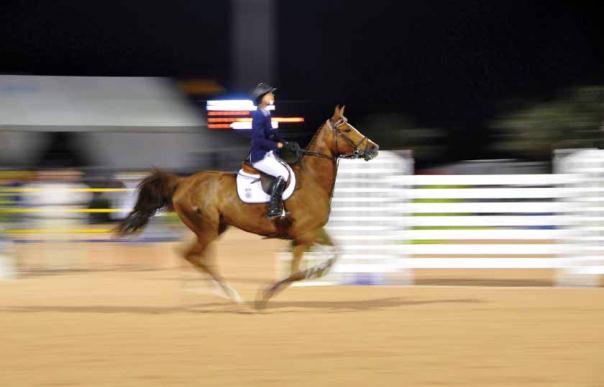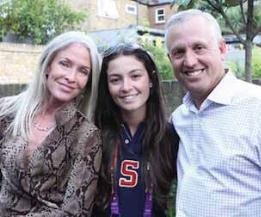 54 SIDELINES MARCH 2013
FOR HORSE PEOPLE • ABOUT HORSE PEOPLE
Continued on page 56
Reed Kessler was sitting in a golf cart watching fellow
competitors when she got the phone call that would change her
life. The caller? George Morris. Right then she knew she had
made the team. She would represent her country in the London
Olympics. Tears streamed from Reed's eyes as the shock settled
in and she called her parents and trainer, international show
jumper Katie Monahan-Prudent, to share the news.
That series of events would set off headlines everywhere as
Reed became the (unoffcial)
youngest show jumper to ever
But Reed's story starts much
earlier than that. In fact, Reed
was born with a passion for
horses and even as a little girl
in leadline her dedication was
evident. Her parents, Teri and
Murray Reed, are equestrians
themselves. They have both
been riding for more than 30
years – Teri as a hunter-turned-
jumper and Murray as a lifelong
Reed followed her parents'
footsteps. At six months old,
Reed's riding career began and
her parents bought Reed her
very frst pony – Shasha. "She
was a sweetheart," Reed said.
"She didn't really have any teeth
left she was so old. She was
very kind and gentle – the perfect frst pony."
For Reed, riding came naturally. "Reed was always a natural,"
Murray said. "She was competitive from the very beginning. Her
mother used to tie stuffed animals in trees when she was little
and tell her to steer and kick to get to Winnie The Pooh. As Reed
started riding ponies, it was obvious she was special."
Murray adds that Reed had completely dedicated herself to
the sport early on. When most girls her age were worried about
sleepovers with friends and getting a hold of their mothers'
makeup, Reed concerned herself with practicing riding until she
reached perfection. "Reed was
always dedicated to the sport,"
Murray said. "From when she
was very young, she said she
wanted to be a professional
possible that was when Reed
was 11. "The year she won her
frst national championship on
Cardiff Mardi Gras, I knew she
was immensely talented. She
was 11 years old; but when she
switched to jumpers and training
with Katie Prudent then I could
see her talent was special. She
went on to win four national
junior jumper championships
(three team, one individual) and
win all over the world. It was
remarkable and only grew from
Reed with her parents, Teri and Murray.
Photo courtesy of Reed Kessler
Reed shows off her style and speed.
Photo by Anne Hoover Photography