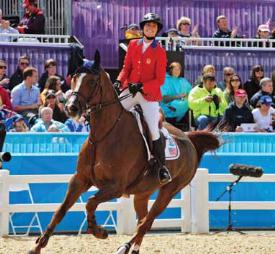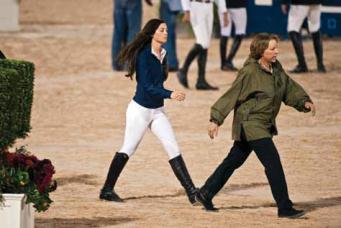 56 SIDELINES MARCH 2013
FOR HORSE PEOPLE • ABOUT HORSE PEOPLE
Reed shows off her Olympic smile during the 2012 Olympic
Games in London. Reed was named one of the "Twelve
″
Continued on page 58
In her parents eyes, the young girl Murray describes as
having been "a great kid and never a trouble maker" as well as
"independent and opinioned from an early age" was well on her
way to a very successful professional career. They were right.
Because of the amount of time Reed spent riding and showing,
she went to Professional Children's School in New York City. The
school provides an education to students already working in or
studying for careers in performing and visual arts, athletics and
other careers requiring extensive time outside of school.
That made balancing school and equestrian commitments
much easier. "It was challenging; but luckily I went to a school
for kids with jobs," Reed said. "They let you build your schedule
around your work commitments whether it was singing, dancing,
Going to a school with peers in a similar situation to hers also
made the social scene smoother. "Everyone understood each
other and their commitments. It was normal not to be able to go
to prom, etc. So…I didn't get to do a lot of normal kid things; but I
have never regretted it."
Reed's typical schedule includes waking up at 7 a.m., starting
to ride an hour later, riding between seven and 10 horses, hitting
the gym and heading to bed by 9 p.m. Reed jokes that she's like
But even with a busy schedule, she does manage to spend
some time doing more normal teenage activities. She loves to
shop, enjoys "chocolaty" desserts, watch comedies and talk with
friends. She also enjoys spending time with her three dogs, Mouse,
Rudy and, the newest addition to the family, Carly – a puppy she
rescued who was scheduled to be put down the morning after she
Murray adds, "Believe it or not, our favorite thing to do as
a family is ride together. At our farm in Kentucky we gallop in
the felds together. It's a blast. On quiet nights, the family does
puzzles. Reed and her mom go crazy for complicated puzzles. We
go out to eat a lot, as everyone is exhausted after riding (and me
at work). We also like to root for the University of Kentucky Wildcat
Reed makes sure to spend plenty of time with her family – who
have been huge supporters of her throughout her career. Her
mom has always traveled to shows with Reed and she actually
switched from hunters to jumpers so she could compete at the
same shows Reed went to. "My parents are everything to me,"
Reed said. "We are incredibly close."
be prouder. "She has a strong character," Murray said. "She's so
forthright. Reed tells you exactly how she feels. She is a very loyal
person and she expects those around her to be loyal. It comes
from her confdence. I think this confdence is a big factor in her
So you can imagine what it felt like for her parents to learn she
made the Olympic team. Reed says that when she called her
parents they both started crying. "She really earned it against all
odds," Murray said. "Teri and I were so proud."
But learning that their daughter earned a place among the
world's top riders and watching her actually compete in the
Olympics were two different things.
Watching Reed make history in London took their excitement
to a whole new level. "It was so exciting and nerve wracking at
the same time," Murray said. "I remember before getting there
watching a parent of a gymnast on TV that the
commentator was making fun of for being so excited.
I thought that looks normal… Everyone teases me
that when I watch Reed it looks like I am jumping
the jump myself from the stands. I can't help it. It's
Reed doesn't plan on this past Olympics being her
last. She has her sights set for future championships
and Olympic teams. And being so young, she has
her whole life ahead of her to make every one of
her equestrian dreams happen.
Reed, an 18 year old Olympian, has gotten
where she is today through extreme dedication.
She has sacrifced a lot of things that normal kids
get to do in exchange for living her dreams – a
trade off Reed knows is well worth it.
Reed leaves us with this bit of advice for other
young riders with big dreams like herself: "Push
yourself to move up. Don't stay in the same division
just to ride. Equitation is a foundation, not the end
all. Push up and challenge yourself to struggle and
become the best rider you can be."