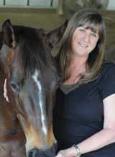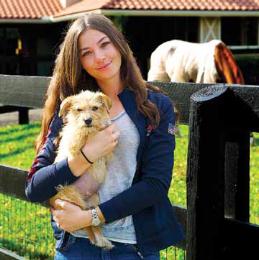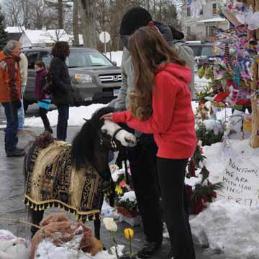 4 SIDELINES MARCH 2013
FOR HORSE PEOPLE • ABOUT HORSE PEOPLE
Wellington photographer Jack Mancini did a fabulous
photo shoot with Reed and not only captured her bond with
Cylana but also took a wonderful photo of Reed with her
puppy Carly. The great thing about the photo is the story
behind how Carly joined an Olympic family - Reed adopted
Carly from Danny & Ron's Rescue! What a lucky little pup.
In addition to the story on Reed, a young equestrian, we
also have a story on Hollywood movie star Tab Hunter, an
older equestrian. Tab may be 81; but he doesn't act it and
I hope I am still riding every day when I am his age. Our
California writer Holly Hugo-Vidal has been friends with Tab
for many years and takes us on a wonderful journey into the
movie star's life, which included starring in 40 movies.
This issue is chocked full of great stories – from foxhunting
in Colorado to a story on a rescue that has earned their
stripes by rescuing zebras! Last month we welcomed Linda
Parelli to our team and in this issue we are pleased to
welcome the guys from Double Dan Horsemanship. Linda
and the Double Dan guys will alternate answering questions
Many years ago I was sitting on the side of the pony
jumper ring at the Winter Equestrian Festival when a young
girl with long black hair and big sunglasses struck up a
conversation with me. We talked about fashion trends in
riding coats and had a delightful chat.
That girl was Reed Kessler and less than 10 years later
she still has long black hair and a fondness for fashionable
riding jackets. She also has the title of Olympic Show
Jumper on her resume – pretty remarkable! Reed and her
Olympic partner Cylana grace our cover this month and I
think you will love our story, "Remarkable Reed" written by
staff writer Dani Moritz. The story is a great look into Reed's
life and you will fnd out that she still loves riding jackets!
Reed Kessler and her new puppy Carly. Read all about Reed in
Lake Placid
On page 32 of the February issue we stated that Richard
M. Feldman was the chairman of Classic Communications. Of course,
Richard is the Chairman of the Lake Placid Horse Show Association.
Richard is a longtime friend of Sidelines and we apologize for the
each month in our Natural
Horsemanship column. I hope
their advice helps you in your
partnership with your horses.
Speaking of helping, don't
miss The Bottom Line story
issue. Following the Sandy
Carousel Miniature Therapy
Horses in Florida and asked
for their help. Gentle Carousel
responded by spending two weeks in Newtown with their
amazing miniature therapy horses.
In just a few days I am headed to Wellington and the
Winter Equestrian Festival. I will share my adventures with
you in our next issue. Until then I hope you enjoy all of our
stories, visit us on Facebook and watch our Sidelines TV
videos and read the blogs on our website. Please tell your
friends about our one-year subscription to Sidelines for only
$13. I want everyone to Catch the Sidelines Spirit!
Magic, a therapy horse from Gentle Carousel Miniature Therapy
Horses, comforts a girl at the memorial at the town hall in
Newtown, Connecticut. Read about Gentle Carousel's trip to
Newtown in The Bottom Line on page 144.
Photo courtesy of Gentle Carousel Miniature Therapy Horses