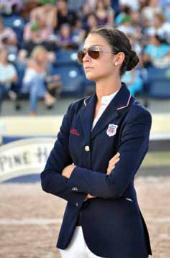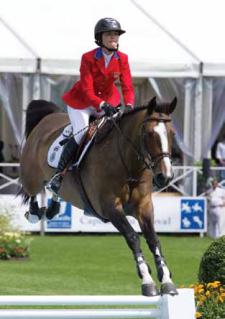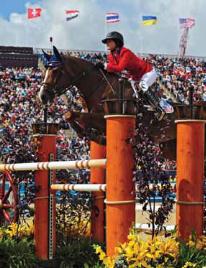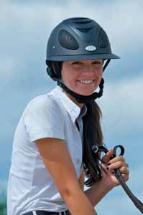 58 SIDELINES MARCH 2013
FOR HORSE PEOPLE • ABOUT HORSE PEOPLE
Reed Kessler quickly became one of the equestrian world's
biggest superstars after making the Olympic team at only 18
years old. In the past year, she's become every little girl's role
model – not only for her riding achievements but also for her
style. Here's what Reed had to say about the Reed Kessler
What kind of sunglasses do you wear?
Ralph Lauren – they have a great vintage feel I love.
You ride with a GPA helmet. What do you like about it?
I love the GPA First Lady. It fts perfectly, never moves and
is comfy. GPA sponsors me.
What do you like about your hair long? Do you plan on
cutting it?
I change it once in a while; but I always prefer it long. I'm
pretending to be Naomi Campbell!
You have a very distinct expression on your face over
almost every jump. How would you describe it?
I've always had it! I don't think about it very much; but I guess
What's your fashion style when you're not in riding
clothes?
I guess my style is very New York when I went to school on
the upper West side. Ray Bans, a band shirt, jeans and boots!
When I dress up I try to channel Kate Middleton!
What's your fashion style inside the ring?
I'm sponsored by Alessandro Albanese. The clothes are
Any tips for achieving the "Reed" look?
I guess the First Lady GPA and an Alessandro coat is the